Contributor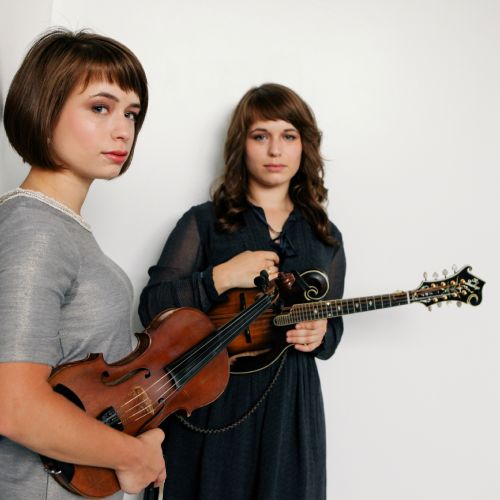 About The Price Sisters
At just twenty-three years old, twin sisters Lauren and Leanna Price are poised to become the torchbearers for traditional bluegrass as it enters its eighth decade. While their playing is thoroughly rooted in the classic style of Bill Monroe, their smooth, polished sibling vocal harmonies infuse the music with a fresh, contemporary appeal. Inspired by the soundtrack from the movie O' Brother, Where Art Thou? the sisters got their first instruments – a mandolin for Lauren and a fiddle for Leanna – for their eighth birthday. As teenagers they performed in a family band and became fascinated with the history of the music. At seventeen, Lauren and Leanna made their first television appearance and formed their own band, The Price Sisters. In 2013 they enrolled at Morehead State University's Kentucky Center for Traditional Music, honing their musical chops and earning bachelors degrees in traditional music with minors in business administration.
Rebel Records owner Dave Freeman was amazed when he first saw the Price Sisters perform in 2014. "To find young musicians today who can not only play and sing beautifully, as Leanna and Lauren do, but also really appreciate the music they are playing, bodes very well for the future of the music," he says. Freeman soon signed the sisters to the label, and a well-received seven-song EP, was released in 2016.
The Price Sisters' second release pairs them once again with Grammy-winning producer Bil VornDick. They are joined by a superb group of musicians including guitar wizard Bryan Sutton, banjo master Charlie Cushman, and bassists Mike Bub and Dennis Crouch. A Heart Never Knows is a satisfying mix of obscure gems from pioneers such as the Carter Family and the Delmore Brothers, coupled with stunning new songs from some of today's top songwriters. There's something for every taste, from the driving bluegrass of "Love Me or Leave Me Alone" and "Remembrance is a Golden Chain," to the mournful country-flavored "If I'm Gonna Be Lonely," the lush waltzes, "God's Beautiful Hills" and "Raindrop Waltz," and the old-timey gospel trio "Get on the Main Highway." Leanna and Lauren romp through the joyous duet, "Singing My Troubles Away," propelled by Sutton's impeccable guitar picking. The sisters pay homage to their mentor Bill Monroe with "The Lee Wedding Tune," on which they were thrilled to play instruments loaned to them by Hall of Fame member Bobby Osborne (a 1924 Lloyd Loar mandolin and a fiddle that belonged to Monroe sideman Kenny Baker). The powerful and spooky "Widow of the Mountain" sounds both ancient and contemporary, with subtle accents provided by cello and Dobro.
With well-chosen songs, creative arrangements, impeccable musicianship and stellar vocal harmonies, A Heart Never Knowsconfirms that The Price Sisters have arrived, and that the future of bluegrass is in good hands!