How am I ever supposed to watch a normal concert again?

Friday, October 13, 2023 was the night everything changed, the night I saw my favorite band perform in a venue like no other. Here's my story. There will be hyperbole.
The band: U2. I know, they're old, and you're still mad at them for putting their album on your iTunes for free. But in my formative years, they helped define my spiritual connection to music. When people ask me what my all-time favorite concert is, I used to say "U2, 1987, Joshua Tree tour." Now I'm not so sure.
The venue: Sphere, Las Vegas, Nevada. There have been plenty of innovations in live music through the years—wireless guitars and mics, the Jumbotron, pyro—but the Sphere in Las Vegas tops them all. In case you missed it, it's a $2.3 billion giant ball behind the Venetian in Las Vegas, with the world's highest resolution screen on the outside and inside of the ball, and 167,000 speakers, and haptic seats, and robots. None of that is hyperbole.
This won't be a proper concert review. More like an experiential review. Part applause, part travelogue, set to the band's lyrics. Call it an Analogue Travelogue.
"I'm getting ready to leave the ground"
I left the ground on a red-eye from ATL to LAS on Thursday night. Departure was delayed due to the flight being operated by Spirit Airlines. My late arrival was compounded by the inability to leave Harry Reid International Airport. See, there's going to be a Formula One race in November, right down the Strip, and they're doing construction to get ready. Lots of construction. The entrance ramp to the highway was closed, and it took ages to crawl away from Arrivals. By the time I wandered through the smoky Harrah's casino and found the "front" desk way in the back, it was 2 AM.
The kind lady at the desk must have sympathized with my beleaguered Eastern Time Zone appearance (and, just maybe, my Vertigo 06 T-shirt), and when I asked if you could see the Sphere from their hotel, she said, "I'll upgrade you to a room with a view."
And so it was that I opened the blinds on the 29th floor and saw a shimmering purple orb nestled in the Nevada desert.
Next day, determined to maximize my brief time in Atomic City, I donned my U2 360 shirt and set out at about 7:30 AM (pesky time zone) southbound down an almost-empty Strip toward a very-Vegas breakfast buffet at Excalibur. The Deuce bus then took me down to the "Welcome to Fabulous Las Vegas" sign, which I'd never bothered to actually visit in any of my previous trips here. There was already a long line of pilgrims waiting for selfies, so instead I snuck a picture of Elvis chilling in his Volkswagen. Later that night, Bono would declare to us, "Elvis has not left the building!" so this was all perfect.
My real purpose for visiting the sign was to spend the rest of the morning at the Pinball Hall of Fame, which is a magical warehouse full of pinball machines old and new, just waiting for your quarters. I spent more than a few quarters on the Rush table and recalled a VHS mixtape of U2 and Rush videos my friend Steve made me in high school. I'm not sure how many people are fans of those two particular bands, but Steve and I were.
Returning north, I stopped at a Stranger Things thing, survived the devilish grip of a Demogorgon, and bought a cool Palace Arcade T-Shirt. Back on the Deuce, I talked U2 with a dad from Oregon who really wanted to see their show but had spent all his money on things like Cirque tickets for his family of five. He's a good dad, I suppose. While we chatted, his daughter piped in to point out an apparently venerable Vegas landmark: "That's the Taco Bell you can get married at!" I got off the bus one stop too early and spent 20 minutes crossing the street (because, well, Vegas) to land at the Venetian, in search of Zoo Station, the U2:UV Experience.
Did I mention that casinos are like migraine-inducing labyrinths intended to disorient and cause lung cancer? Well, it would have been easier for me to find the Zoo Station in Berlin than in the Venetian. (Note: it's quite easy to find if you just enter the correct door.) Zoo Station is well done, with a couple of interactive experiences, a theater, a bar, an "I want to buy merch but can't go to the show" shop, and a wonderful retrospective of Anton Corbijn's photographs of the band. That's where I spent the longest, watching the four displays reveal the mostly monochrome photos one year at a time. It was a treat to see alternate looks at iconic images like the Joshua Tree set, and poignant to watch the band members age before my eyes.
On the walk back to Harrah's I marveled at the number of folks with U2 concert shirts and lanyards buzzing all about. Counting the floor, Sphere holds some 20,000 people, and there are shows every Wednesday, Friday, and Saturday nights, so the impact is palpable. I chatted with a guy wearing splendid Achtung Baby album cover shoes. Another had a replica 1985 Unforgettable Fire shirt; he assured me he'd been to the show, but the original shirt was long gone. And an elevator companion noticed my own (original) concert shirt and spoke in broken English, "You are going to show? I went Wednesday. It was ahmaazing!" It's nice to have something immediately in common with so many strangers.
During a respite before the show (I was on 4 hours of sleep and about 22,000 steps by then), I read the 100-page show program I picked up at the pop-up shop. I'm glad I did. It gave me some background on the visuals I would soon see without spoiling anything, and included all the lyrics to Achtung Baby, which the band would play in full. Even if I know them by heart, I love to read lyrics, often as poetry, and these raised my anticipation even higher. I set an alarm and tried to take a nap, but sleep would not come.
"Ready to let go of the steering wheel, I'm ready, ready for the crush"
In an attempt to avoid the long journey through Harrah's, back to the strip, and through the Venetian to get to Sphere bridge, I opted for the back door of Harrah's and the streets just off the Strip, where one is warned not to go at night. But people in U2 regalia were everywhere, taking various routes toward the bright light like worker bees milling about a hive. Except these bees couldn't stop taking pictures of the hive.
I arrived a few minutes before the 6:30 opening of the doors, and mostly marveled at the exosphere. I walked up close—very close—and could see each little light-emitting diode. Isn't it remarkable how those tiny lights work together to form brilliant images I could see from my plane? Every now and then, Sphere would wear the neon U2:UV logo and unseen speakers would blast the opening guitar riff from "Zoo Station," and everyone would cheer. Live music is wonderful.
"The doors you open, I just can't close"
Once the doors opened, I counted myself privileged indeed to be one of the first people to enter this remarkable venue. This was only the seventh show of the residency, plus a few showings of Darren Aronofsky's film on off-days, so everything was still so very new. The "lobby" is essentially the part of the Sphere that's under the seats, and it has a "TRON-meets-I, Robot" vibe. A digital waterfall sent drops of light both up and down, letting us know that our sense of gravity and dimension might be disrupted a bit. A new friend from Ohio told me there were indeed robots up on the 6th floor, but I didn't actually know there was a 6th floor so I remain skeptical.
I passed the huge lines at the first merch table and found a much less crowded one, and realized the shirts here inside were different from the shirts at the Venetian shop, so I made the egregious and irresponsible decision to buy another black T-shirt. (I suppose there are worse irresponsible decisions to be made in Vegas than "I bought two shirts.") With that accomplished, I entered the Sphere. (Well, technically, I was already in it, but you know what I mean.)
"Let her pale light in to fill up your room"
My seat was on the back row of the 200-section, off to the side a bit. If you have a choice, I'd say front row center of 200-level is perfect, with 300-level center almost just as good. First impressions: the venue was clean, both in the "not dirty" sense and also, more so, in the aesthetic sense. There were no speaker stacks. No monitors. There were no lighting rigs, just four thin pillars that would occasionally bow in obeisance to the band. The stage was designed to look like a simple record player, modeled after Brian Eno's stochastic light-up turntables. Edge's prodigious guitar racks were hidden. They even took pains to hide Bono's harmonica! This must have taken considerable effort, and it fit the venue perfectly. And for a final first impression, here's exactly what I wrote in my notes about the interior LED surface of the Sphere: "Unlit panels look like concrete after a rainfall." More on that to come.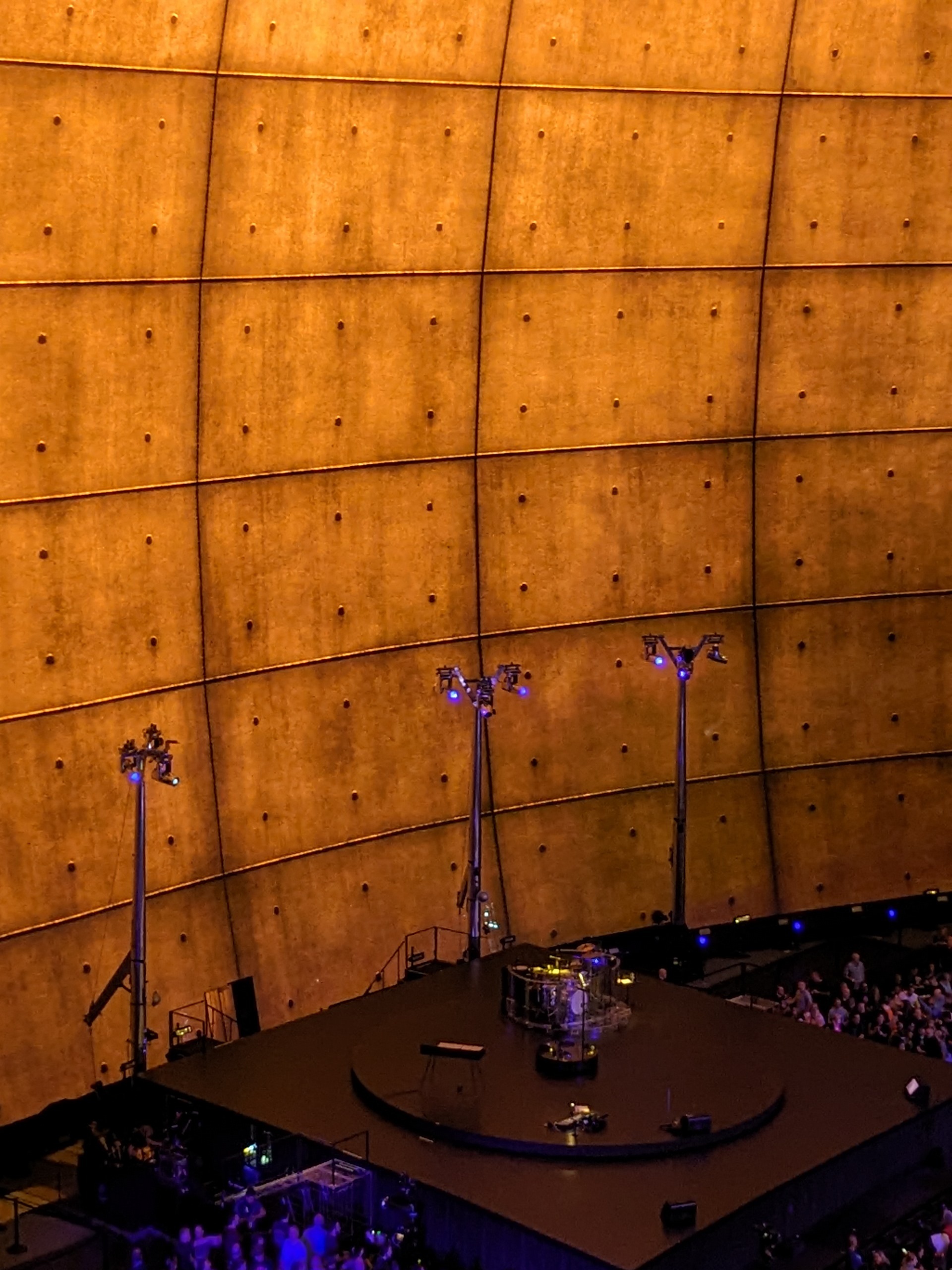 "After the flood, all the colors came out."
A DJ named Pauli the PSM warmed up the crowd from an open-top Trabant, the car that was featured in the Zoo TV tour. When he completed his transit of the general admission floor and showtime neared, my anticipation was about as high as it's ever been before a show. This was the band I've stuck with through decades—the one I've written about, even lectured about—in a venue literally like no other. I'd fed my ears a steady playlist of U2 since I got my ticket. I'd done the work of arranging travel. I'd managed flight delays and traffic snarls. I'd bought the shirts. It was finally time.
You know those unlit panels? With a wink like the emoji sometimes adorning its exterior, Sphere tricked me. Turns out the interior had been lit the whole time. And with the pounding of a drum and the wail of a guitar, the "concrete" high above the stage started to crack. Virtual dust fell three, four stories, and bright white light shone through the separating seams. I followed the dust down to see Bono, Edge, Adam, and Almost-Larry take their places on the turntable. The gaps slowly spread, revealing a grid like the cover of Achtung Baby, with some of the squares serving as live video closeups of band members. And as "Zoo Station" left the station, I could not contain my smile. Expectations? Exceeded.
"Unos, dos, tres"
There are three things that elevate the Sphere experience beyond anything I've seen in live music: the visuals, the sound, and something I'll call the "mechanics." The visuals get the most attention, which is understandable. The experience is stunning. Throughout the night, my nearby companions and I just looked at one other, flabbergasted, wordlessly asking, "Can you believe what we're witnessing?" And U2 is the perfect band to show the place off for the first time. They've innovated live music, tour after tour, and they care deeply about how technology and staging can heighten the fan experience and complement the music. For U2:UV they commissioned artists like Marco Brambilla and Es Devlin to decorate Willie Williams' vision to world-bending effect. They manipulate dimensional space, sometimes folding the curved surface, or lifting it into an infinite column, or making it disappear altogether. I'd rather not spoil it all, save a few photos and this most extraordinary story.
"Baby, baby, baby, light my way"
It was during "Atomic City"—the infectious new song about Vegas—that the wall came down. The Sphere showed an image of the street just beyond itself, the street I had just walked along, and the giant Ferris wheel, and the backsides of the casinos lining the strip just to the South. We were seeing exactly what we would be had that side of the Sphere not been finished. Cars passed. Vegas's neon glow decorated the night sky. Just like that, we were outside.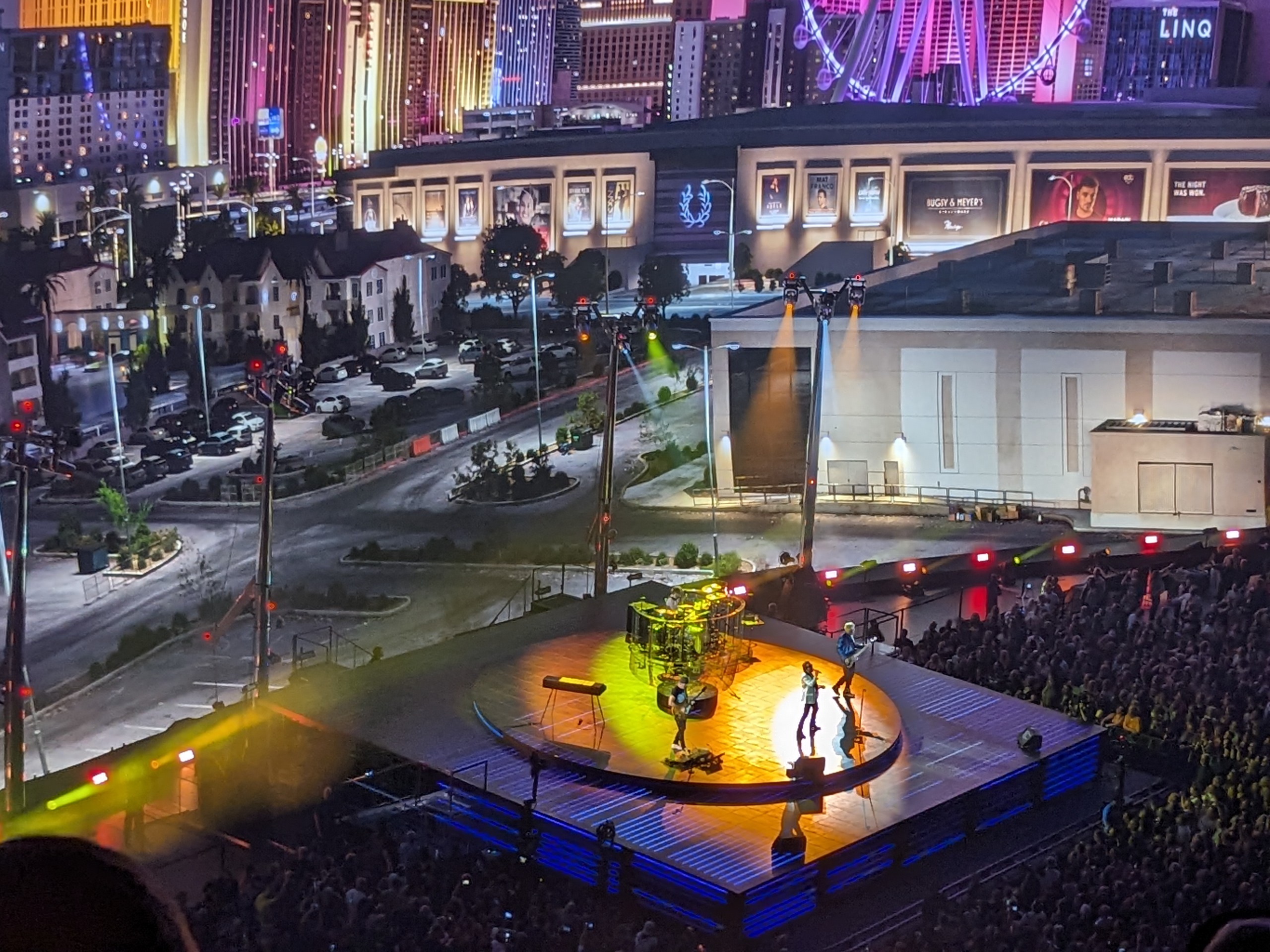 It was a brilliant trick, and an ordinary band would have been more than satisfied with the effect. But this was U2, and they like to make a point. Careful observation revealed that some of those casinos were being "unbuilt." We were seeing a time lapse of the construction of all of Las Vegas, but in reverse. Cranes popped up around the Linq, and down it went. The Eiffel Tower fell. Streets were deconstructed. Soon, we'd been sent back in time, and we stood among an unspoiled Nevada desert. Next, in an overwhelming progression, a pair of helicopters approached and beamed down the live concert video in their searchlights. The primitive desert emptiness filled with 300-foot tall rock stars. The deep amber glow of sunrise then lit the horizon, and John Gerrard's gigantic breathing flag returned, a visual symbol from earlier in the show. The sun rose and the flag billowed white (see "Live at Red Rocks"). That's when we experienced the visual that sticks with me most out of all the profound things I saw that night: we were still outside, but now it was daylight. I don't mean we were looking at daylight. It was daylight. You could see your seatmates—well, really, everyone—just as clearly as if it was 2 in the afternoon. There were no "house lights" to be seen. The Sphere has so much light it can, by itself, choose a time of day and make it happen. It sounds simple, but it was transformative.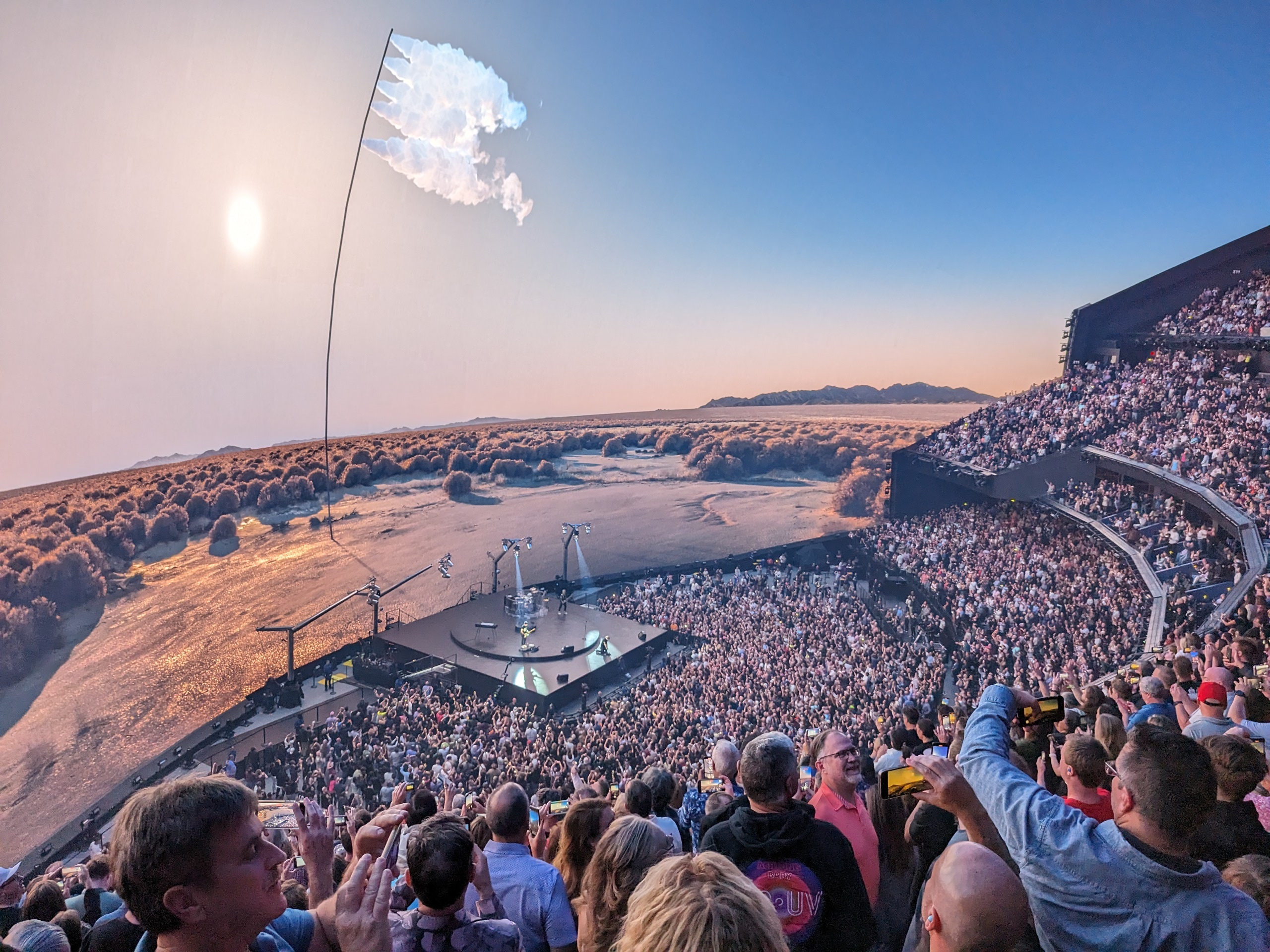 There are some movies now that film in a box called The Volume, filled floor-to-ceiling with LED lights. Instead of filming in front of a green screen, they use a projection of the backgrounds they'll add later in CG. The projection casts the same light on the actors as the real background would, so it's all more convincing. As I stood outside at noonday in the desert, I had to remind myself I was inside, at night, in Vegas, though I was thoroughly convinced otherwise.
But do you want to know what made an even bigger impact on me than the visuals? The sound! To wit: at one point in the show, Bono leaned forward, as Bono is wont to do, and said, with his voice becoming softer with each word, "Isn't it nice to be in a place where you can whisper?" And I can say with utter confidence (hearing is believing) that the people in the back row of Section 402 heard him just as well as those on the rail in GA. There is some serious acoustic alchemy happening in this place. They beam the same sound, at the same volume, to every single seat.
I knew that fact in my head going in; I'd read all about the science. But I didn't fully appreciate how much it would affect the experience. I heard everything. Every guitar strum. Every sung and spoken word. Every hi-hat clap. No reverb, no muddy bounce. It got loud, like a rock concert should, but I realized later that night, in the late-night quiet of the hotel, that my ears weren't ringing. And the sound was genuinely immersive. I couldn't tell where it was coming from, as if it was coming from everywhere. There are a million speakers in the place, but you can't see a single one. Come for the spectacle, stay for the sound.
And finally, a word about "mechanics." I worried a little going in that there would be too much to look at. I've been to those IMAX movies at museums—the hard-core IMAX that shows a 20-minute space movie, not the one at your theater that shows Avengers movies—and because I could not take in the entire screen in my field of vision, I found my eyes darting around the whole time, wondering what to look at. I worried that in the Sphere, I'd have to make difficult decisions about watching the band or the sky. No one wants to make difficult decisions during a concert.
It was almost like I'd placed my concerns in U2's suggestion box, because they did the mechanics exactly right. They used the Sphere to full, sumptuous, eye-melting effect, but not always. Sometimes, they turned it off completely and used conventional concert lights hidden behind it. Other times, they only used the bottom fourth or so, like the biggest wide-screen Jumbotron you've ever seen. Still other times, they relied on the spectacular lighting in the turntable. Like an accomplished artist, they gently directed my focus, gave my gaze a break when needed, but also let me soak in the sculpted head of mega-Elvis.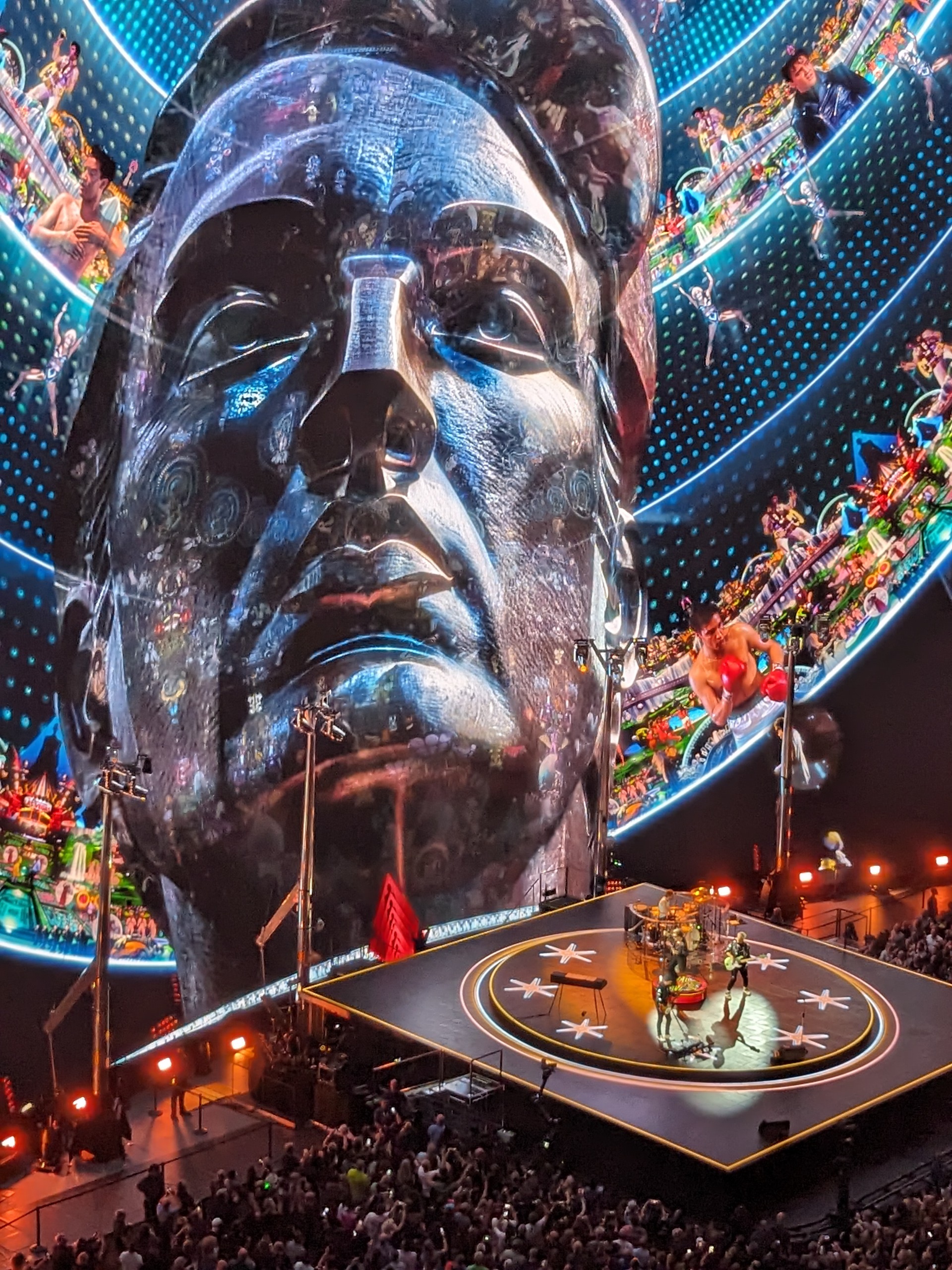 "You're the real thing. Even better than the real thing."
A week removed from the show, there are moments that come back to mind every day. Edge's guitar solos were sublime—"Acrobat" was incendiary—and have never ever sounded better. Plus, I love to hear him on acoustic, and we got a few entire songs' worth. "So Cruel" was rarely ever played by the band before, but since they're playing all of Achtung Baby it's a nightly treat. During "Angel of Harlem," an amused Bono stumbled a bit leading a chorus of "Don't Look Back in Anger," and I later learned that Noel Gallagher was in attendance. But there's one moment that was the most memorable for me. The band closed the main set with "Love is Blindness," which is a haunting song, and sure would be a downer way to end a show, had we not known an encore would follow. Safe in that knowledge, as oversized digital insects were drawn to the light of the Sphere in such abundance that they darkened the dome, I reveled in the eerie melancholy. But then Bono added the perfect punctuation mark. On his way off the stage, he spoke a subtle refrain: "Bright light city gonna set my soul, gonna set my soul on fire." By the time I thought, "Wait, that's…" he replaced the last line of "Love is Blindness" with, "Viva, viva, Las Vegas."
At the end of the night, after a panoply of endangered species came to life during "With or Without You," and after "Beautiful Day" bled so naturally into "What a Wonderful World," a genuinely happy band left the stage, and, yes, we sang "Forty" on our way down the stairs and into the street.
Not everything about Sphere is perfect. There's a nasty overhang in the back of the 100 section that blocks almost the entire display, and many of those ticket-purchasers were not aware of the obstructed view. Those seats were also priced as high as the front row. This has clouded the experience for many. I blame TicketMaster, because they're TicketMaster, so let's just assume it's their fault. Really, though, it would be better to just take those seats out. And there have been some hiccups with entry and egress, but the place is new, and those kinks will be worked out. What will remain is a canvas and a palette, waiting for generations of artists to explore untold corners of the live music experience. Well, not corners. It's a sphere.