We didn't really know what to expect.
This site, Analogue, wasn't a reality, yet. It was just a fledging idea. When co-founder Matt Conner and I arrived in Knoxville, March 2016, for our inaugural visit to Big Ears Festival, we didn't really know where to go, who to see, or what to expect. 

We dove in and came away with a few unforgettable experiences, beginning with the very first night of our festival-going. We shuffled over to the Bijou Theatre, a classic, older seated theatre with plenty of space and few balconies. Both of us were intrigued by the idea of seeing Thomas Bartlett and the band he was performing with, The Gloaming. 
With no expectations, we experienced a set of music that left me questioning if my musical tastes had led me down the wrong path, because The Gloaming are a supergroup of sorts, though not in a traditional sense, I suppose. They're a supergroup of stringed instrument players that dig deep into traditional Irish music: jigs and reels, fiddle-based dance tunes, captivating Celtic lyrics. I got lost in the circular swirling of Martin Hayes' fiddle notes, engrossed in the guitar of Dennis Cahill, and kept my eye on Thomas Bartlett nearly attacking the piano with intrepid force. 
When it was over and we had some time to process, Matt turned and said to me: "Do I like Irish music? I think I like Irish music now. Wait, have I always liked Irish music?" 
It was a moment of stunned reflection for both of us, I think. A question or two that sat pressing down: what else was out there that we hadn't been exposed to before? How small and insignificant had our listening habits become?
We soon got our bearings, however, and set off consuming pieces of bands and performances that I never thought I'd attend, let alone enjoy. Everyone has their own experiences, their own stories to tell. Mine are scattered but no less visceral to me. And I made a playlist that chronicles some of the paths I've taken over the last two festivals appearances. Feel free to enjoy. 
At Big Ears, 2016, I saw Yo La Tengo twice. The first time they completely inverted audience expectations by playing a near-90-minute improvisational free jazz set with Bryce Dessner of The National, members of The Sun Ra Arkestra, and a straggler or two from Kamasi Washington's touring band. A bit dismayed I didn't get a "traditional" YLT show, I nevertheless chalked it up to the festival experience. 
But the next night more than made up for it when they took the stage with a four-piece Lambchop for a heavy set that ranks as one of the best shows I've seen. Who knew the combination of Kurt Wagner and company along with the Hoboken three-piece could make such a melodically cacophonous tangle of music? It was the last show of the evening for me, a late show with the Bijou Theatre about half full. But at only half full it held the intensity of a sports arena. Those of us in attendance aren't likely to forget the dual-band jam. It was just one of those moments you had to see to believe.  
The following night when eighth blackbird performed with Bryce Dessner and Will Oldham (Bonnie "Prince" Billy), it brought the evening an introspective, avant-garde jolt. Together the onstage musicians stretched the boundaries of contemporary classical music but grounded it all in sturdy guitars, supplied by Dessner and Oldham. And to end the show, Oldham performed three songs, I can't soon forget. I felt joy and warmth rush through my body at an encore that included "New Partner," one of my favorite Oldham songs. It was delivered with grace and sincerity that only a few can muster. And Oldham is the only one who owns his music in a way no one else can. 
Speaking of grace and sincerity, later that weekend Joe Henry took the stage with Marc Ribot for an acoustic set that covered nearly all of his enormous catalog. Because of the quiet, theatrical nature of the show, I was able to hear depth and echoes inside Henry's songs—items that are occasionally masked by his studio production flourishes. 
The next night, just before my morning departure, I walked home around 1:30 a.m., Kamasi Washington's wall of jazz (especially "Leroy and Lanisha") still blowing my mind. Before giving up and heading for bed, I stopped in briefly for a late-night set from an electronic artist I thought I had never heard of. Later I found out it was Ben Frost, but I guess Kamasi had blown a recognition circuit in my cerebral cortex. 
Slowly, on the way back downtown, the drizzle turned into a more fully-developed rain. I thought about my hotel bed and the drive home in the morning, sad to leave but also reeling with a buzz of new music.  
Though far from being "professionals," getting to Big Ears the second time around in 2017 proved a bit easier when navigating the schedule. Instead of all the great moments, I'll offer my only regret from the weekend: taking off from the Tennessee Theatre before Wilco's second encore. I was on my way to catch Tortoise play a late-night set, then found out that the band played my favorite song from Summerteeth. (I'll let you ponder which one it might be.) If only there were a way to be in two places at once. 
But all of Wilco's set, to me, was flawless. When I think about bands with longevity who play for the benefit of their fans and purposefully opt not to shy away from their entire catalog, I'm hard-pressed to come up with a better band. When you get to hear "Box Full of Letters" and "Via Chicago" and "Locator" all in one evening, how do you top that? 
For starters, you spend the next day listening to both Six Organs of Admittance and Robyn Hitchcock play uncannily gorgeous acoustic sets to a rapt crowd. (And later, when you run into Robyn Hitchcock on the street, you might high-five him in a subtle acknowledgement of how much you enjoyed his set.)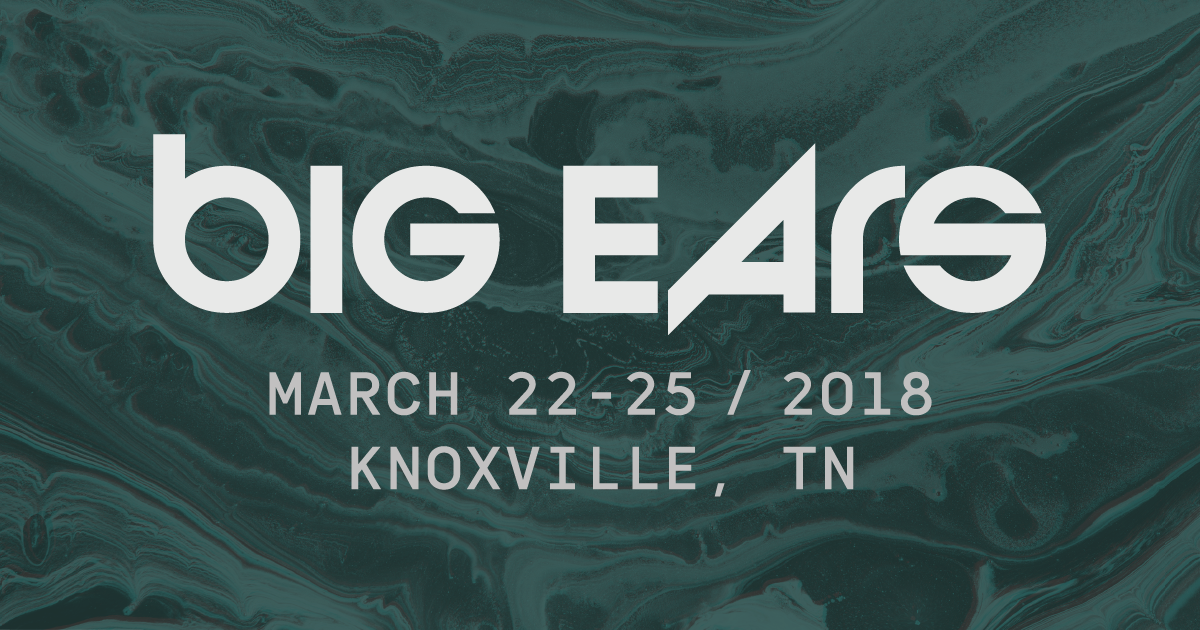 Part of Big Ears, though, is taking left turns into areas and regions unknown. Sure, you always want to see Shabazz Palaces and Blonde Redhead whenever possible, but maybe you check out a band you've never heard of before to. Like a four-piece electric instrumental group from Baltimore named Horse Lords. That way you don't even think about missing part of Colin Stetson's set because you've just found your new favorite band. 
That evening, in one of the biggest and best surprises of the festival, Stephen Merritt turned in an almost-two-hour performance of the first 25 songs from his 50 Song Memoir. If there was a dud among any of his songs I didn't hear it. And Merritt gets my vote for most underrated songwriter and showman of the 20th century. He had all of us crawling back for the second half of his 50 Song Memoir on a Sunday afternoon. 
I'm missing some experiences here and there in this piece, but what is important, what remains after the festival is over, is a territorial shift in the way you listen to, appreciate, and enjoy music when you leave the safety of Big Ears behind. Our ears—magnificent creations that they are—will actually change and adapt to all the sounds we hear, both familiar and unfamiliar, over the span of our lives. 
Living on a steady diet of already-acknowledged music (i.e., music that you know you love) is so customary that often we don't even hear it, let alone pay close attention to it. It's different in Knoxville. You can't help but hear the music from the artists at Big Ears. Their work(s) are designed to keep you from stumbling into a false sense of security, to help us grow and expand our palettes. And what a joy it is to get to experience all of it firsthand over one weekend a year.