John Mellencamp is an American treasure. Don't let anyone tell you otherwise. ​​
Many of us remember when he was Johnny Cougar, then John Cougar Mellencamp, the just John Mellencamp. Whatever name you know him as, his influence and presence on American music is unmistakable. He's an artist with a lengthy career and enough "hits" to fill three jukeboxes. He can reinvent his music when necessary, but the heart of his songs still beats straight and true.
A Facebook post from one of our writers, John Barber, suggested that "Key West Intermezzo (I Saw You First)" was one of his best songs. Not only do we agree on that but the album it belongs on, Mr. Happy Go Lucky, is a standout in his catalog.
In conversation via email, Analogue writer John Barber and editor Scott Elingburg discuss what makes "Key West Intermezzo" so special and why Mellencamp may have a few more surprises in store.
Scott: John, I seldom venture into the world of Facebook but occasionally something pops up that draws me in and you managed to make that happen the other day by mentioning John Mellencamp, specifically the song, "Key West Intermezzo (I Saw You First)." Can you fill me in on the specific thread or question you posed on Facebook and how it ended up leading to that particular Mellencamp song? What was your goal in starting the discussion?
John: Honestly, I'd forgotten about "Key West Intermezzo." I hadn't thought about it in years. But I was making a Spotify playlist for my 16-year-old daughter, and, after including Dawes, Manchester Orchestra, Michael Penn, Josh Ritter, 10,000 Maniacs, Vigilantes of Love, Amy Grant and others, I thought about Mellencamp.

My first thought was "Pink Houses," but then that glorious video for "Key West Intermezzo" came to my mind. I didn't even have to watch it again, I just remembered it—the deep creases in Mellencamp's face, the cigarette smoking, the pre-superstar Matthew McConaughey (post-A Time To Kill but pre-Contact).
The full name, of course, is "Key West Intermezzo (I Saw You First)," and I saw it first when it came out in 1996. I had just graduated from high school, and Mellencamp was the definition of passé. Everybody knew "Jack and Diane," "Pink Houses," and "Small Town," but that stuff was ages ago. "Wild Night" (with the epic Me'Shell Ndegéocello) had come out a couple of years before, but that was an anomaly. Mellencamp (or John Cougar or whatever his name was) was irrelevant.
In 1996, I was way past radio pop anyway. It was REM and the Vigilantes of Love for me. My grunge phase was over and I was all about that Athens rock. But, dang it, I couldn't help but like that song. I couldn't help but like lines like "this loud Cuban band was crucifying John Lennon." I couldn't help but love the odd couples in the video in love with each other.
Twenty-three years later, I still love this song, and I suspect that anyone who says they don't is lying. Why did I start the discussion? Maybe it's time for Mellencamp to rise again.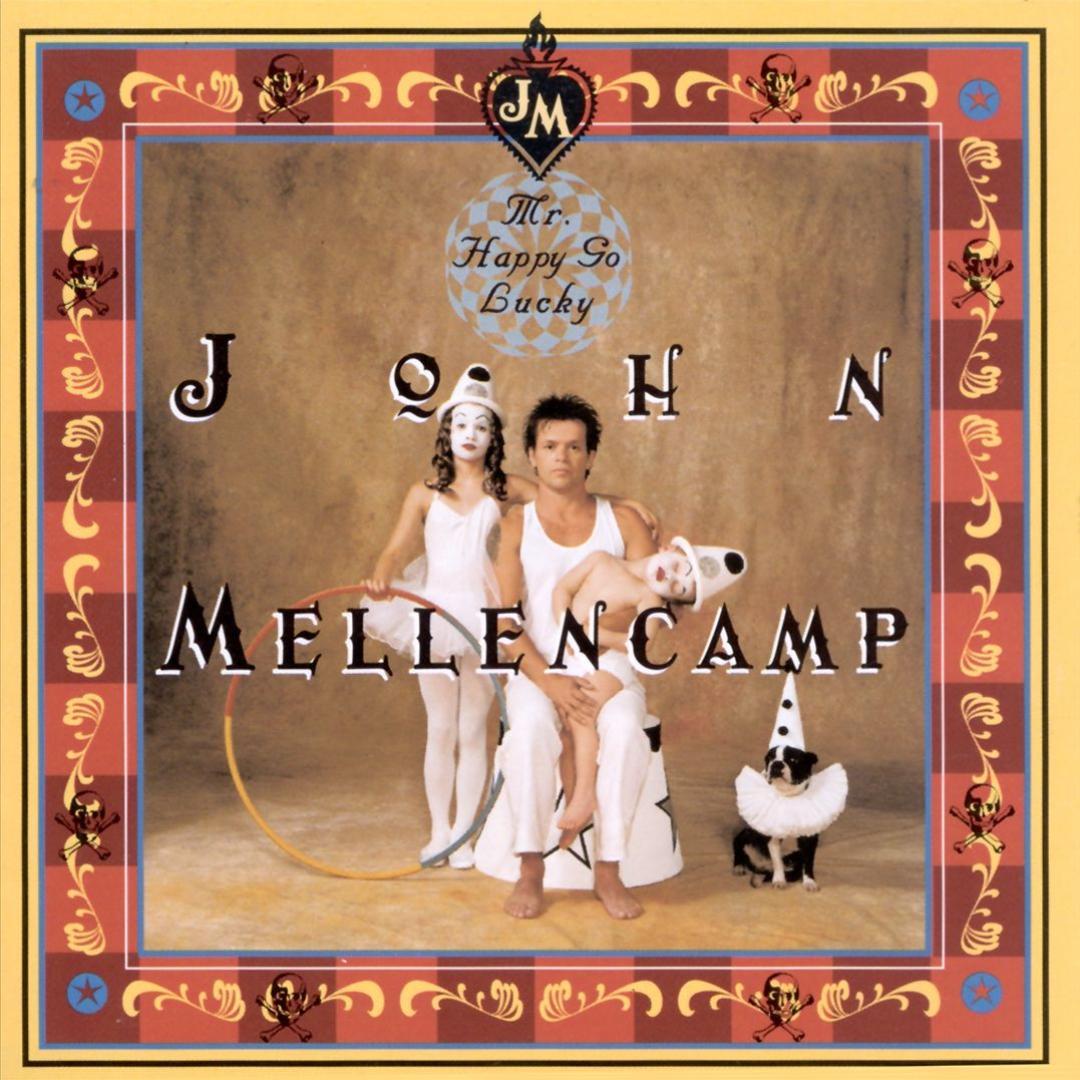 Scott: You just hit on so many elements that I was feeling as well. I hadn't thought about that song in years either. In 1996, you couldn't escape that song on the radio, and it's really easy to understand why when you go back and listen to it. There's Mellencamp's ragged vocal delivery on what is essentially the grandest of all pop/rock songs; the imagery embedded deep in the lyrical couplets; that unforgettable chorus and a trove of talented musicians all over that record. (For example, just two years later, Mellencamp's drummer, Kenny Aronoff would be filling in for Smashing Pumpkins during their Adore-era tour.)
And say what you will about Mellencamp, but he knows—knows—how to write a damn good song. For the longest time, I really thought "Wild Nights" was his song—not Van Morrison's.
It's funny that you mentioned being way past radio pop at that time, because I was, too. It was an era where anything quote-unquote mainstream was just anathema to me. (Except for the Spice Girls, whom I will go to my grave defending as one of the best things to happen to music in the '90s.) But looking back there wasn't a deep divide between radio-friendly hits and what I was listening to at the time, which was a lot of REM, Counting Crows, Son Volt, Lucinda Williams and other roots-rock, Americana records.
Most music was pretty radio-friendly in 1996, and there was something about Mellencamp that made him the cool, elder statesman of FM radio. Incidentally, "Key West Intermezzo (I Saw You First)" was his last Top 40 hit. The other single from Mr. Happy-Go-Lucky, "Just Another Day," only peaked at number 46.
Do you remember any of the pseudo-controversy Mellencamp created by having Junior Vasquez add drum loops and electronics on that record? I remember that being a big sticking point for some people who thought Mellencamp had strayed too far from his roots. Do you remember anything else from that record or was "Key West Intermezzo" your only recollection of that time period for Mellencamp? And do you think eventually people will look back on that record as one of Mellencamp's better moments? It's tough to outrun the shadow of "Jack and Diane," "Pink Houses," and "Cherry Bomb."
Most music was pretty radio-friendly in 1996, and there was something about Mellencamp that made him the cool, elder statesman of FM radio
John: I think the thing I like best about "Key West Intermezzo" (and "Wild Night" definitely comes in here as well) is that JCM wasn't trying to outrun the shadow of his early fame. I can't think of anything sadder than if he had released another small-town, dirty-jeans, five-and-dime anthem. Maybe a lot of people wanted him to stay in the world of "Jack and Diane," where people suck on chili dogs outside the Tastee Freez and then go get it on in the woods, but not me. Can you imagine?
Instead, the Coog grew up. He traded in the ripped and stained t-shirts for actual style, and then, in 1994, the guy that recorded all of those paeans to small town life took the hardest left possible. He recorded a cover of a hippie Van Morrison song alongside a badass bass player (who, by the way, also happens to be a bald, black woman). "Wild Night" absolutely jams; that bass line is killer. "Wild Night" went all the way to #3, so if the small towners complained about JCM selling out, those complaints weren't showing up in the sales numbers.
So, on the heels of that, the next big single was "Key West Intermezzo," and, for me, it felt natural. The distance between the old Cougar and the new, older, wiser Cougar had already been explained. There wasn't selling out here, there was simply growing up. And man, it was cool. Is it cool now? I don't know. I'm a middle-aged dad. I don't think my vote counts any more.

Scott: I think that's exactly what happened when Mr. Happy Go Lucky was released. As is so often the case, folks complain when an artist steps outside of their confines, but, I would say a good 80% of the time in hindsight, it doesn't even sound like that big of left turn. In fact, for a lot of artists with lengthy careers, it really just demonstrates how in tune they are with their artistic efforts.
In hindsight, Mr. Happy Go Lucky still sounds like a standout in the Mellencamp catalog. And, I would argue, he's one of the few artists who navigated the '80s, '90s, and early aughts super successfully. Because it always comes back to the song and, like I said, Mellencamp is one of the best American songwriters. It doesn't matter who produces the record or whatever flourishes get added, you've still got the framework of a Mellencamp song. That's tough to beat.
Maybe he's still got a trick or two up those faded denim sleeves of his.
In the course of this conversation, I've gone back and listened to the entire record and it is just as solid as I remember. Its actually odd how not-dated the album sounds. You can hear the influence of mainstream pop in the production, but his voice and songwriting are top-notch.
I think your vote totally counts in this context. It is still a very cool song and Mellencamp has always been cool. Is "Key West Intermezzo" one the top five (or top three) Mellencamp songs? Where does it land for you? Have you paid attention to anything Mellencamp has done post-Mr Happy Go Lucky? I have not, sadly. I probably should though. I saw him in 2007 or 2008 sandwiched between Willie Nelson and Bob Dylan and he dominated the show. He's not only a great musician, but he's also a great performer who knows how to interact with his audience.

John: I was going to definitively state that Mr Happy Go Lucky was the last of his records that I purchased, but I went back and looked, and dangit if I wasn't wrong. The record immediately after Mr Happy Go Lucky was very creatively titled John Mellencamp. And while I don't remember much about it, "Your Life is Now" is a fantastic song that got a little radio buzz, if I remember right. A quick Spotify scan shows that there is lots of material after that, so it's not like he vanished. I'm betting there are some real hidden gems in those releases, and I intend to do some digging.
Does "Key West Intermezzo" rank up there for me? Sure, but Mellencamp's legacy will always be the "Small Town" guy. No matter what he does, he'll never lose that (and that's a very good thing). Even if he gets another "Key West Intermezzo" and ends up on the radio again, he'll still be dirty blue jeans, chili dogs, and pink houses forever. His legacy is firmly entrenched. That doesn't mean that's he's not capable of more though. It feels like, all along, he's embraced the philosophy that he laid out in "Your Life Is Now":
Your life is now
In this undiscovered moment
Lift your head up above the crowd
You could shake this world
If you would only show us how
Your life is now
I feel like he keeps showing us how... maybe he's still got a trick or two up those faded denim sleeves of his.

Scott: I don't feel like I can top that. I agree with you 100 percent. Mellencamp has a third (or fourth) act coming. We haven't heard the last of him. Real quick, what are your top three Mellencamp songs and one overlooked song from his catalog?
I'm going to go with: 1) "Check It Out" - always loved this song for its lyrics and its passion 2) "Rain on the Scarecrow" - Probably the first protest song I ever heard. I still love it. 3) "Key West Intermezzo (I Saw You First)" - goes without saying
Overlooked would be "Jackie Brown" from 1989's Big Daddy, which, to me, doesn't get enough credit as a Mellencamp staple. The album and the song.
John: As per my normal routine, I spent way too long thinking about this. My top three:
1) "Authority Song" - all attitude, all the time. I dig it.
2) "Pink Houses" - This is the essential JCM song. "Ain't that America?"
3) "Wild Night" - I can't help but love the energy of this. It's infectious.
Overlooked gem: "Dance Naked." What an insane song. It makes me blush every time I listen to it!