It was 2002 and I had a few toes dipped in the realm of Prog Rock.
I know, I know. But I was hanging out with a some bad dudes. And right out of college with nothing but time and ennui on my hands, I spent a few months listening to a lot of Gentle Giant, Pat Metheny, early Genesis, Tomahawk, Secret Chiefs 3, and Frank Zappa. Mostly it was my roommate who insisted on a continual, 22 hours a day, 6 days a week cycle of Frank Zappa's entire discography, including live performance bootlegs and session outtakes. You know how some artists get ruined for life by events and other people? Like when your boyfriend breaks up with you at a Badly Drawn Boy show and makes the music sound like rubbing glass shards in your ears? 
Just me, I guess. 
Conversely, some musicians lodge a foothold in your brain over time that proves inescapable. Case in point: I'll always be a Spice Girls fan. 
(The reasoning behind it is too deep to delve into here but, if you're curious, I did write a lengthy essay on them a few years ago for PopMatters. You've been warned; my love is real.) 
It was at the height of my prog rock poseurism that I ended up spending a lot of time in Asheville, North Carolina. Now, Asheville is beautiful beyond measure and Western North Carolina is a part of Eden or some version of Utopia--especially in Fall. But the proper city limits of Asheville have been co-opted by the two kinds of people: trust fund kids who like to pretend they are vagrants and high-dollar tourists. And Asheville has changed a lot post-9/11, but it has two of my favorite music venues: The Grey Eagle and The Orange Peel. I was on hand for opening week of The Orange Peel where King Crimson performed to a sold out crowd because that's what good Prog Rock followers do; we listen to King Crimson on repeat and gear up for their concert with marathon prog listening sessions.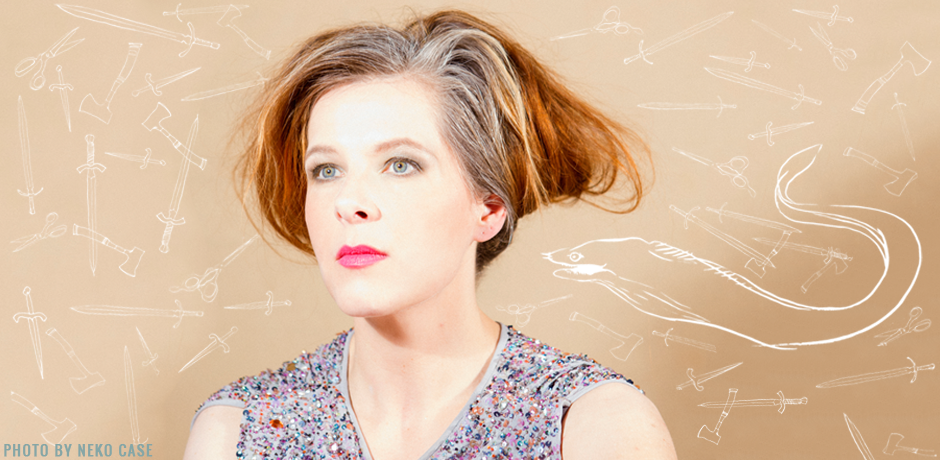 The day before the show, however, I made a purchase that altered the trajectory of my musical tastes permanently. I was on the hunt for an album from a red-headed siren whose song, "Deep Red Bells" was consuming me from the inside-out. There's no other word for it; "haunting" is the only apt descriptor for the track, Neko Case's song about her memories of living in Tacoma, Washington during the time of The Green River Killer's murder spree. It is the only murder ballad worthy of that label, and although Lead Belly's "In the Pines" comes in at a close second, the rest all fade in the wake of Case's mythical chorus: "Deep red bells / Deep as I have been done." 

There's a metaphor deep inside the symbolism of the "red bells"; it's a puzzle wrapped inside a swath of emotion that is more commonly meant to evoke a feeling rather than make literal sense. Case has said she won't tell what the "red bells" represent, though there is some speculation that it refers to a species of flower that grows in the Pacific Northwest. And what's "done" in the lyrics, whatever the red bells may have caused or become witness to, will be different for every listener. For me, the lines that always hold me down and trip up my sense of direction come in the first verse: 

A handprint on the driver's side / it looks a lot like engine oil / and tastes like being poor and small / and popsicles in summer
The handprint sits as a talisman of whatever terrible deed has occurred—likely the struggle between a murderer and the victim—but it's the next line, the line that pivots suddenly to childhood, that won't stop cycling through my circuits. What is it that tastes like being "poor and small"? Does the taste of "popsicles in summer" equate to being poor and small? Or is it the engine oil, the unwashable dark liquid that stains everything it touches, that tastes of childhood? That acrid and acidic taste of fear that, as Michael Stipe so rightfully put it, tastes like aluminum? The popsicles I had were cheap and tasted of plastic and, terrifyingly enough, gasoline. But because of their colors, their fluorescent yellows, seafoam greens, and syrupy reds, it becomes easier and easier for me to see how these disparate connectors come together. 
Case has always wrangled her words and lyrics together in a way that's ambitiously gothic. She's take the terror and bewilderment of Flannery O'Conner and William Faulkner and blends it with the landscape that once was home to wild animals and Native Americans. The lands, like her songs, are usually soaked in blood. Or, at the very least, most of Blacklisted is a bloodbath. Even when Case is trying her to be tonally uplifting like on "I Wish I Was the Moon" and "Outro With Bees," or "I Missed the Point," she always picks solitary and lonesome subjects with which to compare and contend her characters with. 
And I use the term "characters" because Case isn't necessarily one for autobiography. Even though that's a trick that songwriters and fiction writers use, I believe it when she says so. I believe it because you have to occasionally disassociate yourself from the darkness when you want to write about it objectively. It's feels like the same technique that Matt Berninger of The National and Nick Cave use to gain access the grimier recesses of the mind. But male singers tend to find more solace and power in whispering their darkest observations; Case only has one volume: loud. Whether she's singing uptempo rockers or downtempo ballads, her voice is, as she once described it, "the horn section of any band [she's] in." 

Case has always wrangled her words and lyrics together in a way that's ambitiously gothic.
It was her voice, that siren song cry, that distinctly marks her work. It was that voice, those images, that cut through the electro-prog mechanics of King Crimson that chilly night in Asheville, 2002. King Crimson were stellar and blistering techincally, but Case's voice never left my head. It still hasn't. 
For a while I thought that the "deep red bells" were self-referential, a way for Case to call out her own distinctive red hair; a way to acknowledge that, in more ways than one, she was an outsider. You only need to soak up the album title, Blacklisted, and listen to "Tightly" with its hint of deceit and melancholy inside the lyrics to gather that she exists outside the realm of complacency. 
But that's how it has been with Case throughout much of her career; a constant confounding of expectations, slick and sly as the silver tongued killer she references in "Deep Red Bells." Is she country? Is she indie? Is she unbrandable? Is she a lady or a ladykiller? "DON'T PEGGY OLSEN ME, MOTHERFUCKERS" she famously spat back at a tweet from Playboy music writer Tim Grierson. (And followed it up with a lengthy essay a few years later.) You're expectation of who she is means less than most of us realize. 
A few years after the King Crimson show, I saw Case in the same venue twice—once with The New Pornographers and again with her band. Fox Confessor Brings the Flood had been out for a few months and with its stark songs carved from Norse mythology, Biblical references, destructive landscapes, and poisoned characters, Case was on her way to becoming the star she is today. 
I haven't thought much about King Crimson since that show. Case's songs still ring in my bones, though. Sometimes, during someone else's songs, her voice cuts through like a scythe in a forest fire. And I hear bells. And they call to me and I must go, wherever they might lead, whatever fate they've determined.