Burn it all down. That was the idea.
James Alex says he simply wanted to undo any and all conventions linked with Beach Slang's music as he headed into the most recent phase of his career as a songwriter and performing artist. He wasn't tired of the sound. He wasn't frustrated. He was simply ready to move forward.
For years, Beach Slang has been linked with retro rock sounds like The Replacements even as Alex's myriad other influences remained unexplored. On the band's latest album, The Deadbeat Bang Of Heartbreak City, it was time for a deep dive into the rest—the likes of Joan Jett and Warren Zevon—yet to also emerge with something organic. This isn't a tribute project, after all, but a new sonic chapter for Alex and his bandmates.
Most recently, the band has been warming up stadiums for the Goo Goo Dolls on the eve of the new album release. We sat down with Alex to ask him about Deadbeat Bang and the rudder that guides all of his music.
Analogue: You've been on tour with the Goo Goo Dolls. Do you find yourself taking notes when you tour with a band so experienced?
James Alex: I really do, man. It feels like a semester at sea. I'm studying everything, just how they do the meet-and-greets every night and how they relate to fans on such a personal level after how big they've gotten. They're still so sincerely connected to the folks who have given them this career. I think it's amazing. It's just next-level stuff to learn. Beach Slang is let's pile into a dive bar, spit beer all over the place and scream. Here it's light shows and video monitors and this whole other world. I'm around it each day and it's like fantasy camp.
Beach Slang is let's pile into a dive bar, spit beer all over the place and scream. Here it's light shows and video monitors and this whole other world. I'm around it each day and it's like fantasy camp.
Analogue: The new album, Deadbeat Bang Of Heartbreak City, is a departure for your earlier work. How much of that is something you had a vision for and how much of it is just what you were organically writing at the time?
James: I've written two EPs and two LPs so far, and I said this to Charlie a bunch, but those could have been a collective work. I saw them all as a thick chapter in whatever this narrative is that I'm trying to write and the work I'm doing as Beach Slang. After I did A Loud Bash of Teenage Feelings, I was like, 'Okay that's over.' Had I continued that thing, I would have felt like this phony Xerox machine trying to write what folks expected.
So I think that explains the lag time between records. 'Okay, you're done with that. What do you want to say now?' I was trying a bunch of stuff trying to figure out what felt organically right. I threw away a lot more songs than I kept. I sorta landed in this space where I felt, as I writing this, like it was a mixtape that I'd want to give to people, but instead of taking it from songs that existed, I was going to make them.
So it became this sort of love letter to rock and roll, to all this stuff that I really, really dig. Whereas before, we get a lot about the Replacements, which I love because [Paul] Westerberg is why I write songs, but it was nice to also love AC/DC and Cheap Trick and Kitty Wells and Warren Zevon and Joan Jett. I was able to tackle all these other influences and go for it. I wasn't even sure if I could do it, to write these classic rock riffs, these swagger-y ideas. But I wanted it to feel like it was a time traveler. I wrote down in my notes that I wanted it to sound like a Trans Am in 1978 playing power pop in '87 in a Warren Zevon demo with just enough Westerberg and Kitty Wells to make it feel authentic. But that's what I was doing. I wanted to make a mixtape that said, 'This thing called rock and roll has kept me.'
Everyone connected with the band has given me this dumbly lucky day job. I just wanted to scream thank you in all the rock and roll voices I grew up. It was just something I needed to do. It was cathartic to do it, to bust out of the framework that Beach Slang was. I just wanted to burn expectations down to where you'd say, 'I don't know what it is he'll write.' I dug the idea of that.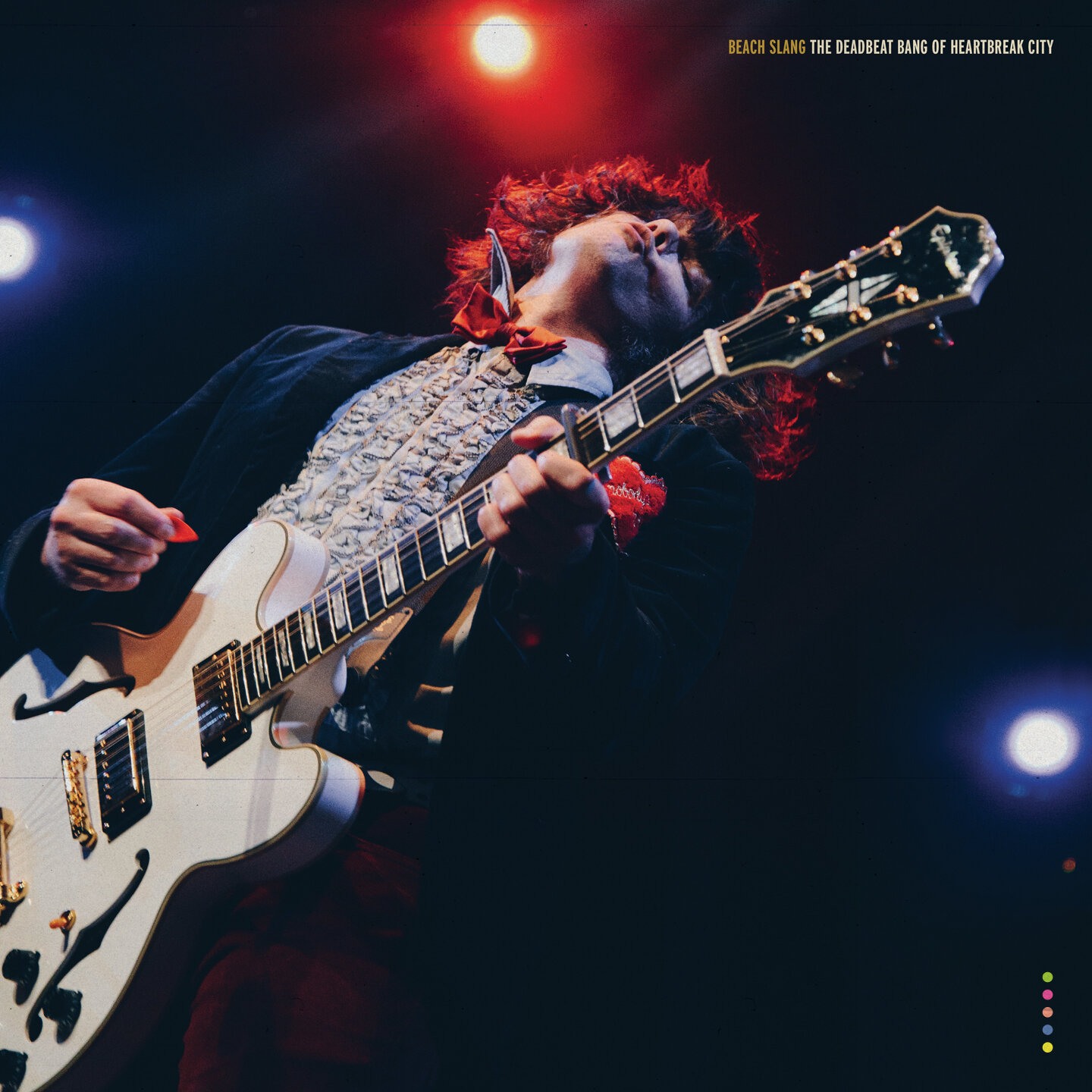 Analogue: How do you accomplish that in an organic way? To say, 'I want it to sound like this influence,' yet keep it organic and not forced? That feels like a real dilemma.
James: I think that's why there was so much write, then throw away, then write, then throw it away. As you learning, it's like, 'I want this to be this dirge-y chug like "Cherry Bomb" like the Runaways.' The first couple attempts at that, you just realize they did it so well, you're just ripping it off. You cram it back through this Beach Slang machine until it feels true to what you do. So even if I have an idea, like the Runaways example, I take a step back and then crash myself into this cumulative influence thing. I'm eyeballing the idea, but by the time I come out the other side, it sounds like a Beach Slang song. I don't think it has a choice. It's such a mash-up of so many records. I guess if you steal from enough people, all of a sudden it becomes you.
I think the write, rewrite, and write again thing, you get an electric buzz in you and then you know it's right. You have to wait for that moment. There are times I've tried to convince myself, 'No, you felt a little buzz. You felt a little spark.' But I'm just lying to myself because I want the song to work, but I you can't let that happen. You have to throw it away and so I do until the real, true buzz comes in and you realize, 'Oh yeah, this is going on the record.'
So I think it's the idea of being really, truly honest with yourself until it's not some cheap knockoff or it's not insincere or it's not organic. You'll get there if you have that much grit and determination.
Analogue: There's also a real vulnerability there.
James: Oh, for sure. That has to exist, right? I don't know how to connect with anyone if I'm just lacquering myself in a marketing ploy. Ripping yourself open and letting it pour out—even to my detriment—might not have as much mass appeal as if I wrote, "Hey baby, let's kiss." That might be a bigger song for me, but that's not how I want to connect. I want to connect with depth, not width. I think that's what I want to aim for, so even if it keeps the following smaller, it just seems so much more to all of us involved. So yes, vulnerability is the captain of the songwriting ship for sure.
Ripping yourself open and letting it pour out—even to my detriment—might not have as much mass appeal as if I wrote, "Hey baby, let's kiss." That might be a bigger song for me, but that's not how I want to connect. I want to connect with depth, not width.
Analogue: Is that hard to protect that instinct? That depth not width idea?
James: I'm not so sure. I'm so hellbent on the importance of that. I have this soft yet impenetrable armor about it. That's what I'm just dialed and locked into.
Analogue: That's great to hear. Some other artists have admitted the difficult there when art meets the marketplace.
James: Sure. Look, if a few people show up, it all feels like weirdo cherries for me on top. Even when I started, even the biggest teenage daydream in my head, I never thought of playing stadiums. If you go into a club in any city in the world and a few hundred people show up, that's always felt like success to me. I never cared about money or anything. My paychecks have always been about meeting my heroes, those posters on my wall coming to life. Then they say, 'Hey, that record you made is pretty good,' and it's someone from Jawbreaker or Bob Mould. It's the Goo Goo Dolls taking us out on tour and Tommy Stinson playing on my record. Those are the paychecks. I've just never had the concern about the commercial appeal of it. It's great if people connect, don't get me wrong. I've never worried about having bigger numbers. That stuff never got into the bloodstream for me.
Analogue: How are the new songs turning out in the live setting?
James: So far, so good. I was real nervous to do them because it's been so long. We've had set lists together where everyone knows these things and can sing along and it's great. But putting the new songs in felt so good to have something new to play, but I wondered if that song would be the one where everyone goes to get a beer. Then I remembered the first time we played "Bam Rang Rang" and there's this little part where I stop and there's just a vocal. The whole room sang it on this tune-up show for the Goos tour. I thought, 'Wow, it's happening. People are listening to the new songs.'
Analogue: I love to hear that the risk has been rewarded already even if the album isn't quite out.
James: It has. It has. It's been really, really cool. People get attached to the idea of what a band is and the songs start to attach themselves in memories or points in people's lives. Then all of a sudden, you say, 'We're not going to play some of those. We're going to play these new songs you've never heard before.' You worry sometimes about how that will go over, how it will keep the momentum of the show going, but you finally just jump and do it and that singing comes back at you the first time you give it a short. It wipes that fear off a little bit.
I still want to keep my spine steeled up because there's a lot we'll play on the headlining tour this spring. I'm trying to keep that in mind. I love the bands I love and I'll go see them but it's cool to get that perspective. Even the Goo Goo Dolls will play something off of Superstar Car Wash and I'll be like, 'Yes!' That doesn't mean the new stuff isn't awesome. It's just that you're attached to moments in time, so I'm trying to figure out how to get folks attached to moments in time that haven't yet happened. [Laughs]
VISIT: Beach Slang