The story of Boy & Bear is found in the years between albums.
The first three albums came in a five year span, with an orderly two-year break between each acclaimed release that seemed perfectly suited to maintain a constant momentum forward to meet the Aussie band's global appeal. Then, instead of a new album in 2017, there was silence.
Suck on Light is two years late if you go by the metronomic release schedule from albums past. However, the boys had more important things to attend to: namely, the health and well-being of front man Dave Hosking. What began with mentions of physical fatigue and clouded thinking for Hosking led to the entire band taking off a year for Hosking to learn more about his condition and heal, if possible.

For fellow founding member and guitarist Killian Gavin, it was a trial of a different kind. The four other band members were nervous for their brother and his health, but they were also tasked with figuring out the future. If the band was prematurely finished, then what next? Finances were affected. Futures were discussed.
In the end, Killian says Boy & Bear are much stronger and better for the time away. These days, Hosking is feeling better with varied treatments for an illness that has gone through multiple diagnoses. The rest of the band has more ownership of things than ever before. As for the fans, they've responded en masse with concern for the Dave's health and appreciation for the band's music, which for the first time, was not a given this time around.
Sometimes you don't know what you've got until it's gone. For everyone around Boy & Bear, the mere threat of losing it all was enough to make everyone appreciate it more than ever before.
Analogue: I'm curious about this entire story from your perspective. At what point did you realize the band's future was potentially in jeopardy because of everything going on with Dave [Hosking] and what was that like for you?
Killian Gavin: He first started talking about symptoms back when we were writing for the third record. We knew something back then was up, but it was very hard from our perspective to get a grasp on what was going on because he's talking about his brain feeling a bit foggy and a bit cloudy. He'd talk about his muscles feeling tired or exhausted. At the start, it just sounded like he was really tired, like maybe he had some blood sugar issues going on. When we first started talking about it, he'd drink a can of coke and he'd feel better. So we thought maybe that was it.
That's when I think it really set in and we knew, 'Okay something serious is wrong here.'
It also took quite a long time and it took a long time before we learned about the severity of it. We obviously watched him degrade in terms of his health and the symptoms. It was probably when we finished touring on the back of Limit of Love, the third record, that the whole last year of touring, he was in a really, really bad place. That's when I think it really set in and we knew, 'Okay something serious is wrong here.'
He spoke to us at the end of that touring cycle and he said he originally wanted to take a year off music completely because he didn't have the capacity to contribute, to tour, to do anything. He wanted to find out obviously what was going on. That was definitely a hard piece of information to swallow. We'd been making consistently every two years and everyone was keen to keep pushing. There was a lot of momentum with the band and this seemed the worst possible time to take your foot off the gas, so to say. But obviously anyone's health is paramount to the project, so it was a no-brainer.
It was very difficult for the rest of us, the four of us besides Dave. We had a lot of chats on the side. There was a lot of anxiety and concern for Dave. We were all essentially worried that we were cutting the life of the band short. We were worried that maybe we were cutting the life of the band short. Maybe it's coming to an end prematurely because he's in such a bad way and there's no way he's able to work right now. It was a stressful period, but there was never a choice in it really. Health comes first and he's not enjoying himself right now because of it. He's not going to enjoy himself doing music, so it was a lose-lose all around.
So yeah, it took a while for us to get our heads around the idea of taking a little time off. It took a while to learn how to have hope for the future again. It was definitely a dark period. We tried to always put on a brave face whenever we were with him, but we were also very concerned about him and what would become of our career. It was tough but we've obviously learned a lot from it.
Analogue: What is the primary takeaway for you?
Killian: I think we all learned two things really. We learned how much we need each other, which I think has been one of the biggest pros of our band from day one. We've been a very democratic band. We're all very, very good friends and we're the band who still hangs out when we're not on tour. When we are on tour, we're laughing 70 percent of the time. It was an interesting bit of reality to go when one of the guys is down, the whole thing stops. We're all so reliant on each other. That's a beautiful thing, but it also means if one of you do goes down, the whole thing comes to a fault.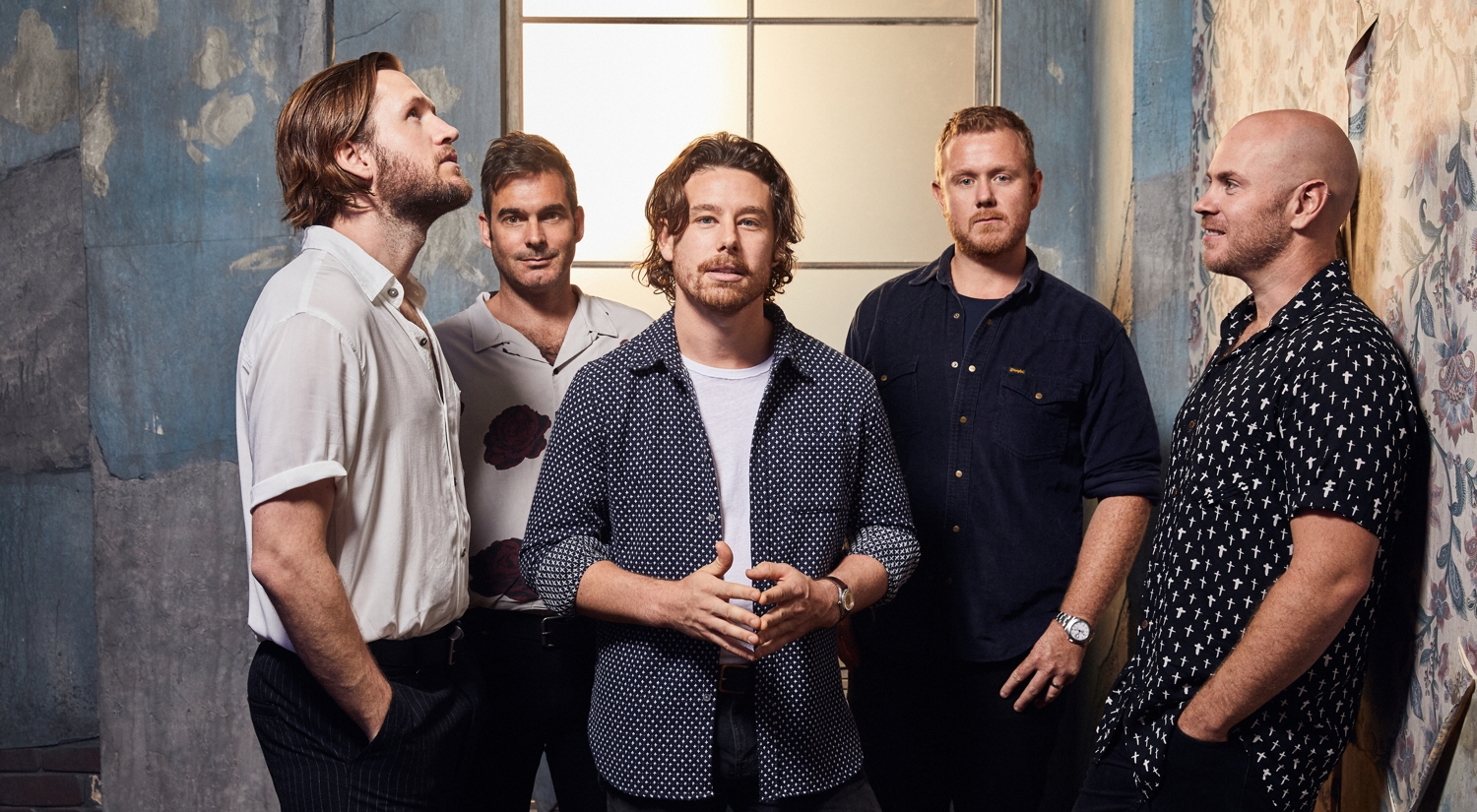 The second thing I was going to say was the four of us besides Dave decided to keep writing music. Dave needed some time. We learned that everyone's got really great ideas they can bring to the table. They don't always make the cut, but for some of the other guys particularly to feel encouraged or even start songs from scratch and bring it to the band created a different palette for some of the songs.
Analogue: When you're looking at this unknown period, were there considerations of going on as a band or giving it up completely? Did you think of making music on the side or wonder what you'd do outside of music?
Killian: All of those questions were asked by each of us at different times. I think that's a fair enough way to put it because there was so much uncertainty. No one wanted the band to end and even Dave, with everything going on, didn't want the band to end. It was just a matter of needing to find out what was going on so he could get treatment because it was unsustainable. In that time when we put a halt to everything, everyone did ask creatively what they should do. I mean, this is our livelihood. Everything got difficult financially over the last couple years. Everyone has been running things slimmer to get through that period.
We definitely looked to get a little bit of music work on the side, but nothing will do what this band does. I have no interest in pursuing a solo career to replace this band. This is just where my heart is. Everyone had the same sort of conclusion which is why we decided, the four of us, decided to start recording without Dave. This was a few months into 2017. We had a bunch of writing sessions where the four of us came together, Monday through Friday for five weeks straight. We just wrote music and recorded demos and jotted down ideas using the iPhone. We did two or three of those writing sessions and made some demos. There was no timeline. It was just more, 'This is our job. This is what we like to do. Let's keep doing it.'
It ended up being a blessing in disguise, because we showed Dave some of those demos we'd been writing. Despite everything, he got a little bit inspired and a week or two later, after hearing some demos, he started coming along to the writing sessions. I think it wasa actually a good thing for him because he'd been stuck at home without any energy to do anything or to socialize. I think he found that the band was a quite comfortable space for him. He could come and hang out with us for the day. He could contribute as much or as little as he wanted to in terms of writing music and creativity during the day. He also didn't have to explain himself if he was quiet or if he didn't feel like turning up. I think he found that helpful.
Analogue: This sort of significant test for the band feels like something special, from the outside looking in. Not that anyone wants to go through something like this, yet to have endured it and learned what you have and come out the other side with a new record...
Killian: I hear what you're asking. For not wanting to sound like a cliche, it is true that through these things you learn a lot and you hopefully gain a lot. You have no choice but to find silver linings in times like this. One of the biggest things we did was... the writing of this record, there was a few things going on. Because of the extra time taken, we had a lot more songs than we ever did before. We usually have 15 songs ready to roll, but this time we had around 50 demos. The first glaring problem was having so many more songs to choose from when we finally got around to hitting the studio. We wouldn't want to always use so much time to make a record, it did let us cherry pick the best 10 or 12 songs and hit the studios with those.
Everyone also took on extra responsibilities. Everyone was doing everything they could at a given moment to help keep things going forward. That happened in so many ways. It's hard to explain, but it was driving an extra hour across Sydney to pick somebody up for a writing session driving across Sydney is a nightmare. Jon [Hart] has been living in Paris for the last three years, but he was flying to Sydney just to do six weeks of writing with us and then fly home for a month and fly back again. The commitment everyone showed to write and spend time together and create demos was huge. It really showed how much we don't want this to end.
Analogue: The response to the first single to the new album was great. Was that a breath of fresh air seeing fan response knowing you'd been away from fans much longer than normal?
Killian: Absolutely. We released "Hold Your Nerve" and the feedback we got was overwhelming. And we did a tour here in Australia, which we'd only had the single out, and they all sold out. That was amazing. We hadn't toured in three years in Australia and we were super nervous going into it. We didn't know if people were still interested. One thing we found out, and you read a lot of comments online, but people were invested in us. It brought the core fans to the surface. It felt like all the activity online was fans reaching out to say, 'We love the music' or 'We're stoked to hear that Dave is improving.'
The reason I bring that up is because the shows were amazing. The fans were wanting to talk and show their enthusiasm for the band. It took us by surprise. It's all been an important and awesome part of the process.
VISIT: Boy & Bear