Who could have guessed Calexico wasn't interested in a conventional approach?
Joey Burns and John Convertino spent much of the spring and summer sheltering in place and getting into the holiday spirit. With a burgeoning idea that evolved into Calexico's first-ever holiday album, Burns and Convertino (and friends) decided to dive into a myriad of sounds and influences in order to create their first Christmas release. The only rule was figuring out how to avoid so many of the overwrought ideas that typically come with such an album.
If you're even remotely familiar with Calexico's body of work, the emphasis on defying convention is intriguing since the group's robust catalog gives them permission and precedent to chase any musical idea. However, Joey Burns says the challenge of a first-ever holiday-themed release made them focus on their intention and inspiration more than ever.
The end result is a vibrant wintry mix that certainly sounds right in line with what you'd expect from the duo who has been so beautifully surprising us all along.
Analogue: Seasonal Shift is the new record. How do you land on a project like this? And given how often you're collaborating or working on projects so varied, how do you even decide?
Joey Burns: Sometimes we kind of go from one thing to the next. The last thing was a very organic collaboration with Iron & Wine. We were supposed to do a Christmas song and I was sort of hemming and hawing. I said, 'Are you joking?' to our German label, City Slang. Severin, who works there who is a delight to talk to, said, 'Yeah you could just call it A Very Calexico Christmas and do whatever you want.' I said okay and then talked to John and he said, 'Hell, no. We're not going to do that.' He said, 'How about this? How about New Music for the Holidays?' I said that sounded classy.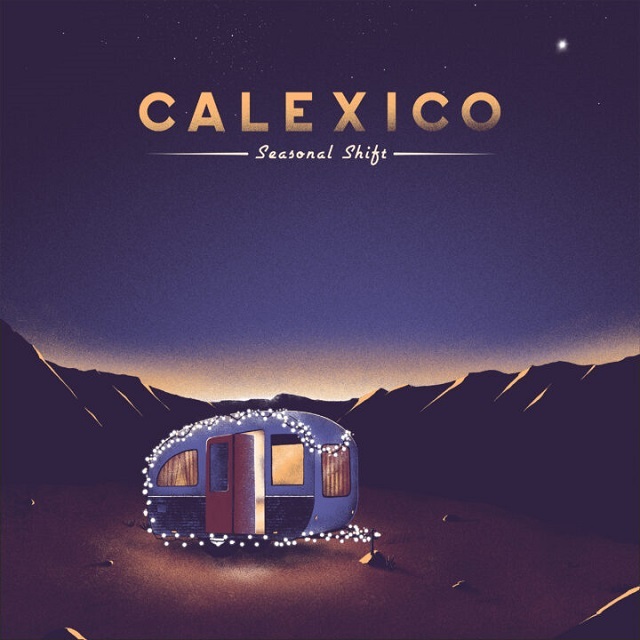 New Music for the Holidays was going to be the template. It was going to be late '50s instrumentals, more jazz-influenced. It was just going to be an EP, just a couple songs. Then COVID hit. Right before I moved, John and I and couple other members who are stateside did a song for a TV show that's yet to be released. That was more getting back to garage, desert noir twang. That lasted for a second—actually 30 seconds... [Laughs]
Analogue: [Laughs] Well-played.
Joey: Not one second less or more. That's actually harder than you might imagine.
Analogue: I wouldn't doubt that.
Joey: So COVID hits and we're trying to move with our family and our dog and our vintage '60s trailer. A month later, I said, 'Sergio, I'd love to do some recording. Do you feel like driving up with some friends with some of our music gear and yours. You can pick up my mini-van if you drive it up.' He said, 'I'd love to. I'm stuck and need a road trip.' I rented them an AirBnB and we recorded some music. Again we were just thinking six songs or so but then those doubled. We sent tracks to everyone and all.
We put a lot more energy into it than we normally would since we were contained. We took full advantage of the opportunity, so that's why it's not just straight-up Christmas songs. There are seasonal songs. There are covers, too, which got us into the spirit and will hopefully get listeners into the spirit, too.
Analogue: Was it odd at all to put yourself in that mindset six months prior?
Joey: A little bit, but you know what's funny is that wintertime, depending on where you live, can be confining, right? So we really couldn't go out. All we had to do is turn off the lights, put up some Christmas lights and—boom! There we were right there at the end of December. I actually borrowed some of my kids books with Christmas themes or seasonal motifs just to put them on the music stand. The one song I wrote looking at this book was a song called "Nature's Domain". It's a fairy tale about someone venturing out and getting lost in the woods and not sure if they come out dead or alive. [Laughs] That's my favorite tune.
"Since we hadn't done one before, we wanted to make sure not to do something we didn't feel comfortable doing."
Analogue: What was behind John's reticence at first?
Joey: I think he just wasn't interested in doing the cheesy Christmas songs. I don't think he's really into those. He has his own interpretation of what Christmas is and what religion means to him personally. He just didn't want to get caught up in it being a predictable sort of move. For him, he's our spiritual compass, which is interesting because here he is saying, 'I don't really want to buy into Santa and all the trimmings and ornaments. I'd rather it just be a reflective expression without it having be the cliche.'
Analogue: What about you?
Joey: I can go many different ways. I love J.D. McPherson's Christmas record [Socks]. It's super fun and it plays on some of those things like the Christmas socks or the sweater. I'm a big fan of him and that record. Over the years, I've listened to some of the records that I didn't necessarily grow up with, but there was a lot of music in my house around the holidays. I'm sure that's true for John, too. So you listen to that and think, 'Okay, I don't need to listen to another Julie Andrews Christmas album, although I appreciate it.'
So I think he didn't want to go down that path. I picked up on that and totally respected it and could go that way for sure. That's why, then, we got some cover songs that we started with to get us into the spirit. Then I got inspired playing with Sergio [Mendoza] and sending tracks to John and getting his drums, immediately. We'd record something and a half hour later, there was the drums. I wanted to do stuff that I thought felt good. I didn't know if they'd make it on the release, but I know Sergio was wanting to do more.
Analogue: Any favorite examples?
Joey: There's a song on there called "Tanta Tristeza", which is not a holiday song at all. It's basically this slow Afro-Cuban vibe, but then it's got this friend of ours we'd never met in person named Gisela João. We just know each other online, but he's a Fado singer and I'm a huge Fado music lover. I had some lyrics translated so that she could at least hear what I was going for. The lyrics she sang were beautiful, and I love that tune. That would normally be on a proper Calexico album. It could fit on any Calexico record, but I wouldn't imagine that song would ever be on a holiday album.
We were just having fun with what a holiday album could be. My wife's advice was just not to make it all heavy and mellow and dark. So she played me some reggae. I love the grooves and understood what she was saying about good vibes, so there's a bit of that. This song called "The Heart of Downtown" came out when we were already done for the day and I picked up this guitar. I was trying to emulate this Peruvian '60s Chicha guitar style. I did it and Sergio said, 'We can just record a little of that and then loop it.' I said it sounded great, so we did it. It didn't sound anything like what I thought it would sound like, but that's the beauty of recording. He said it sounded like some '70s riff. I said, 'Yeah I guess it does.'
I wasn't planning on keeping it but I was just trying to get it out of my system. So he worked on percussion and bass and then he said, 'First write some lyrics and then let's send it to Bombino.' Sergio is good friends with his manager in New York and he was up for it. That was incredible.
Analogue: I'm a bit surprised, because I guess, from my perspective, it would just be clear that you would do whatever you want. That if you said you're doing a holiday record, of course it's going to be Calexico style. Would anyone expect something straightforward there? Even when you said the word trappings, I was curious because I thought you would have shed that skin after putting out your catalog.
Joey: I think it's just because we haven't had a holiday release. It would be easy to say, 'Oh, let's just do some holiday covers.' I think the sheer thought of doing that... We've been asked to do that before and it was for a Starbucks compilation. Even then I chose this really old early music English song called "Green Grows the Holly" so it's not even like anything modern.
I think without knowing what would be, I think John just didn't want it to be called a Christmas album and that it would come with Christmas covers. So I think he was just sensitive to that and I picked up on that. We wrote a Christmas song a long time ago and our record company in Europe said, 'Just do stuff like that, stuff that's more you.' But since we hadn't done one before, we wanted to make sure not to do something we didn't feel comfortable doing.
Analogue: Speaking of holidays, do you have a favorite tradition?
Joey: Back in Tucson, there are a lot of things that we would do. We'd go to the botanical gardens. They'd have lots of lights and live music and little crafts and stands selling beautiful ornaments and gifts with food and drink. It's beautiful. Here in Boise, it snowed, so we're already in spirit. So I would imagine getting the lights outside will be a big tradition. We've got a massive fir tree, and if we can decorate that thing it would be so incredible. [Laughs] I need to call and see who has ladders.
VISIT: Calexico