It's been a remarkably productive year for Cory Wong.
There have been eight—yes, eight—album releases this year alone from Cory Wong, each showcasing a different facet of the acclaimed artist and guitarist's sonic interest and musical personality. From his orchestral release to his new age collaboration with Jon Batiste, from his funk/soul album that started the year to a two-album acoustic instrumental set, from his two-album live show to his latest entitled The Striped Album, there's a lot of meaningful music to take in.
If you've followed Cory's career to any degree, then you're likely already clued in to his dynamic range and tremendous talents. From his work with Vulfpeck to playing with The Late Show's house band to his own solo work, Cory was already plenty busy as an in-demand artist and musician. His year spent largely sheltering-in-place allowed him the creative space and time to fulfill long-gestating ideas in place of time normally spent touring.
Of course, Cory says he misses the road and the connection with fans that live music brings, but he's also satisfied to have so many creative plates spinning in 2020.
Analogue: Let's start with the pandemic. I'd love to know what you've learned about yourself in a year like this?
Cory Wong: I've found that we connect to our calling in a really deep way. Sometimes the way we let our calling manifest is through live shows or being in rooms with other people, like most of us live out, if it really is what we're meant to do and it is the thing that feeds us, we need to find another way to let the calling manifest itself, to let the creative energy manifest itself. For me, that's been through recorded music and writing.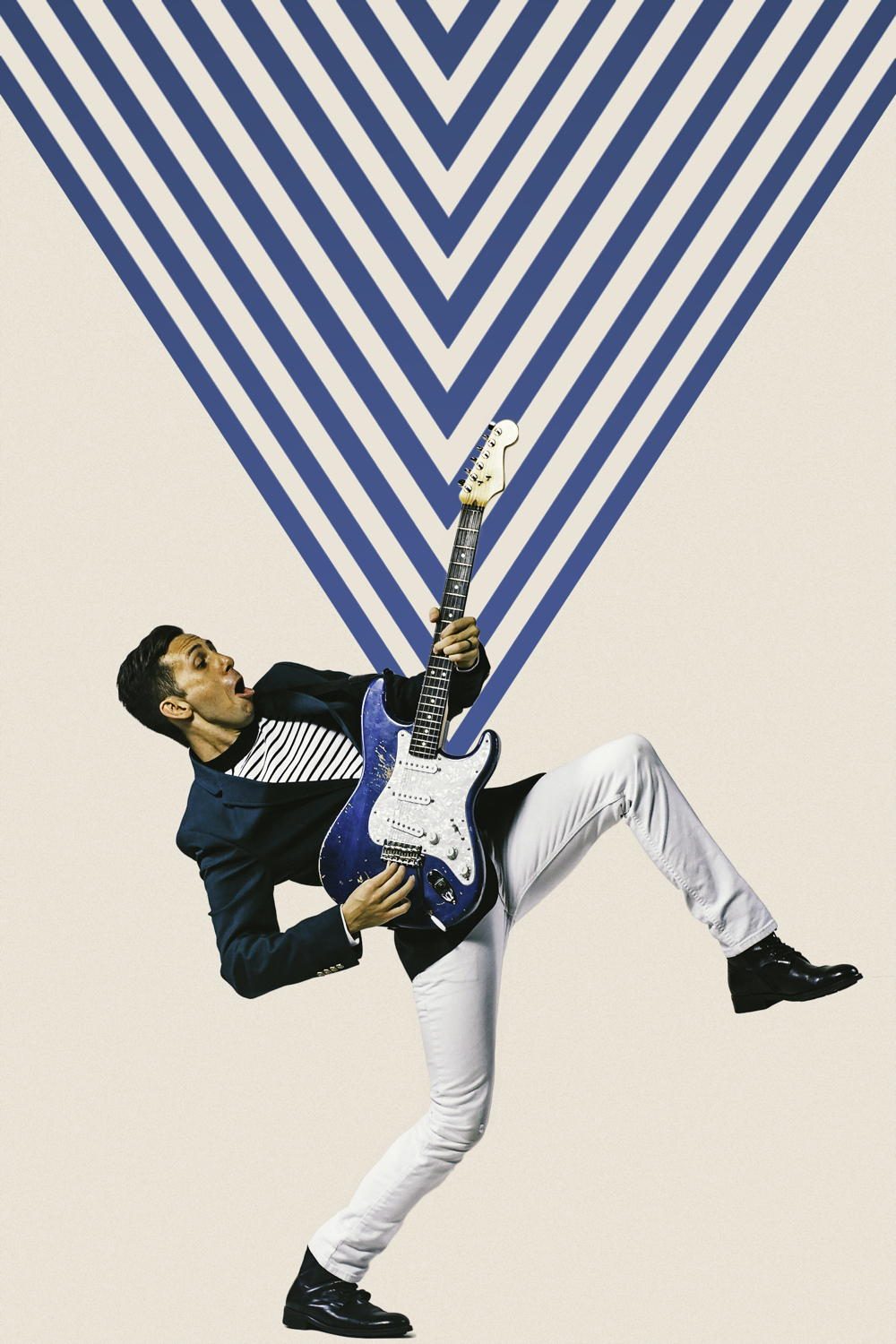 I haven't been able to perform shows or be in the studio with friends or bandmates, but what I have been able to do is spend a lot of that energy and that time writing and recording at my house. It's pretty easy nowadays to record remotely with other people, as we've seen. A lot of the people I collaborate with send files back and forth. Thanks to the internet, that's very easy. This has solidified for me that this life, this musical endeavor, is what I'm meant to do in the world.
Even though the main source of income and time spent has been wiped away, it's like, 'Okay that's fine. Whatever.' It doesn't mean I'm going to stop. I know not everyone is as fortunate as I am to continue to do these things. That's not lost on me. But for me, I've found that being creative with other ways to express who I am as an artist and to connect with other people is recorded music instead and that's really cool.
Analogue: Was it a dramatic thing to have to shift and learn those things or was it pretty casual like, 'Well, if I can't do this then I'll do that'?
Cory: There was a project I did in the late spring and summer that was Trail Songs and that was from spending a lot of time just reflecting, out on walks, out in nature, thinking about how I connect to music in general. I was thinking about my artistry and career in general and how I relate to the earth, how I relate to people around me. That music was brought out of me because of the situation. I feel like I reconciled the situation around me by writing to get my feelings out. Some of it is sorrowful. Some of it is contemplative. Some of it is joyful or more energetic.
My family has been healthy through this and we've been pretty much locked down, for better or worse. There has been some self-reflection, a learning process. This is the most time I've had at home since I was married, since my kids were born. So I'm readjusting my role as a husband and dad through this thing because there's so much more time together. Also I've been discovering how I fit differently when I'm home this much. When I'm out on the road in a normal year, if I'm gone a third of the year, I'm in and out so much more. So I think that side of things more than anything has been interesting to shift.
Analogue: Your level of output this year has been tremendous. Is that the way you work best is to have so many irons in the fire?
Cory: I think part of it is that I have so many ideas brewing in my head at all times, and I have all these concepts that I want to explore as an artist and person, and I normally don't have the time to do it. I'm on tour so much throughout the year. The normal cycle is to write the music, record the album, put out the album, promote the album, and then you tour in support of that album and then you start that cycle over. That's usually about a year to let it do its thing.
Because this year has proven to blow the lid off of expectations, I was able to dive into some of these creative endeavors that I've had in my head. I've had voice memos of writing an acoustic album for the last several years. Now it's like, 'Okay, now is the time to do it. I don't know when I'll have the creative energy or time or the no-expectations air about the industry again.' For me, it's not a departure. It's not like I'm suddenly becoming an acoustic guy. I made those two albums because I wanted to explore the artistic space. I feel like this year granted me that opportunity.
To be able to put out kind of a new age album as a collaboration with Jon Batiste and I was something that, if we just put that out in a regular year, people would say, 'Oh, that's what you're doing now.' It's like, 'No, this is not what I'm doing now. It's just this thing that I did for one week, this head space and creative endeavor that Jon and I thought would be fun to explore. We went in and recorded it and it was great.'
Then the album with the orchestra was already in the works before all of this started and it was already recorded. That was going to be my album for the year. Then I'd do a little bit of writing.
I had no intention of having this many irons or this many sides of myself exposed this year, but I'm certainly happy that it did. I was able to showcase a different level of musical depth and different sides of who I am as a player and as an artist. I guess to answer your question, is it where I love to be? I don't know. It's just what happened this year. I always think of creativity like a flower or vine that blossoms and grows rather than a gas tank that empties. As soon as I would finish the one thing, there was this sunlight on my flower. It's like all of a sudden, 'This thing is growing. I feel the energy from this.' Once I was energized from one project, it was like, 'Okay cool, let's put that out, but I also have this other thing I want to do.' It just kept blossoming.
Analogue: That all sounds very gratifying. If you've had ideas that have waiting for their turn for years, would you say this has been a gratifying year due to that?
Cory: Absolutely. This year in so many ways has sucked, whether due to social injustices coming to light and us having to face those things head on—which in some ways is good and I think we're doing that—or the fact that we're in the midst of a global pandemic, which is also being politicized. One is bad enough but when you can't find common ground about it, that's a double bummer. I'm aware of all that happening around me.
However, I'm also aware that people need a release from that and for my fans and potential fans, people who just want the kind of music to give a safe haven from things that are happening the world, it's satisfying for me to be able to provide that or have that. It's been good for me to have the safe space of music for the sake of my own soul, my own sanity, to connect to music. That's always been my safe haven. To be able to extend that out is certainly more of a gratifying thing than what is already a very gratifying thing of having creative output.
VISIT: Cory Wong