Scott Huerta was likely as surprised as you will be.
If French Cassettes fans find themselves taken back by the band's newest set of songs—the new LP, Rolodex—you're not alone. Scott Huerta wrote them himself, but even he wasn't sure what to make of them until he woke up the morning after their creation. If that sounds confusing, we'll just encourage you to read on and let him tell the story.
Suffice it to say, it doesn't really matter how French Cassettes wrote and recorded their new songs. We're just glad to have them back. Two years after the release of their last single, "City Kitty," Rolodex features a band hungry to serve their fans and make music with each other. These are confident songs—or at least more so than ever before—and they should be. Rolodex is a big step forward for Huerta and company.
Analogue: Releasing music into a pandemic is not exactly what everyone pictures as their dream scenario. How are you with everything these days?
Scott Huerta: We're fortunate because this is the first time we've teamed up with a label [Tender Loving Empire], and they're so on top of supporting this album. So is our manager, which is our buddy, and he's breaking down the dos and don'ts in this scenario—different things that bands are doing right now because it's a strange time. So I feel in good hands.
Touring is a huge loss and I wish so much that we could, but I've wondered if artists and bands would be on the back burner in this scenario—will this be the last concern for people?—and I've been proven wrong in that. People have grown warmer to their favorite music, so that makes me very hopeful.
Whether that's the same for us, I don't know, but it makes me happy to see that's what we're going into. People are just so excited—perhaps more than ever—about supporting their favorite bands.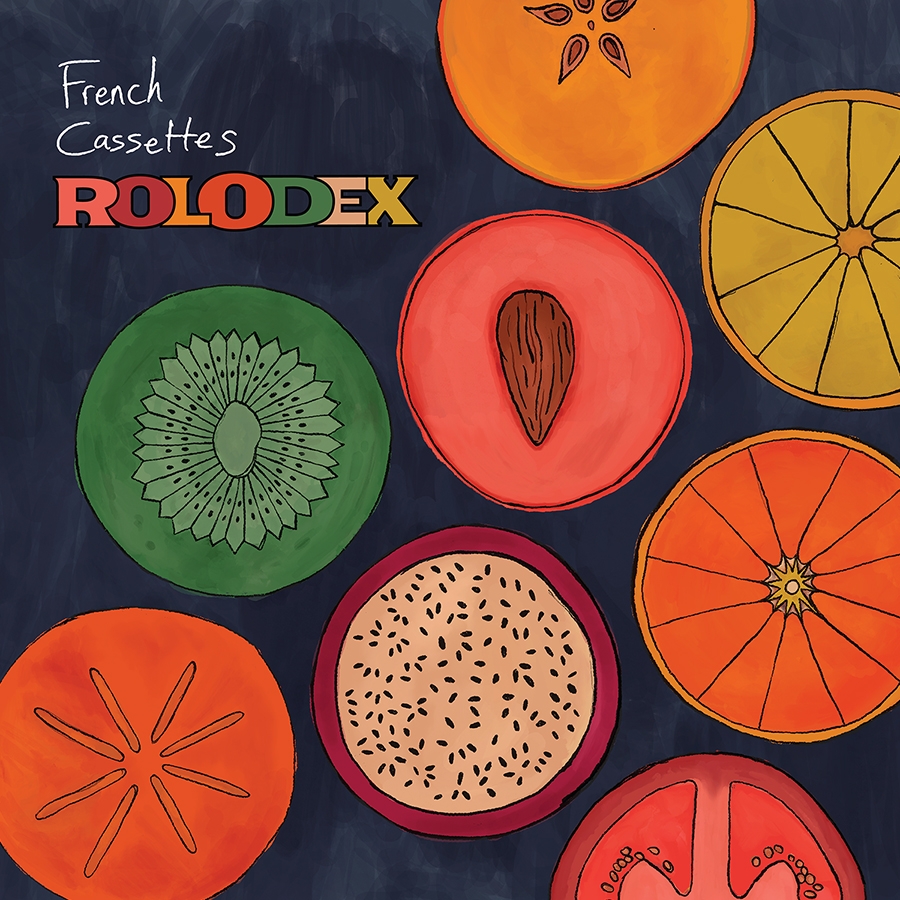 Analogue: Some bios are exaggerated, so I need to check the truth of the statement that you were writing this album under someone's stairwell. If so, that has to be a challenging space to create, right?
Scott: Yeah, it's true, first of all. [Laughs] I had an agreement with roomates first that if I was just the maid, I could stay. That's where I was when I started these songs. Then I moved to a pantry, actually, in this other house. That's when I started writing "City Kitty" and other songs. I wasn't working because I'd just gotten some inheritance money. I was living off that, so I was just staying up until 7:00 a.m. every night. I dont want to delve into the details of how I was staying up so late—nothing illegal. I eventually moved from the pantry to the closet across the hall.
It was challenging in that I'd never written an album like that. We used to have 10-hour rehearsals every Sunday. I miss those times, but we stopped doing it because it wasn't available to do it anymore in that time and space. We were all writing remotely, so I was doing that in the middle of the night. It was funny being in such a sleepy state and then writing so much only to surprise myself when I woke up to listen to it. [Laughs] I would always assume, 'Man, I think I blew it last night.' Then I'd listen and get excited more often than not.
So it was challenging my songwriting abilities because that's not how I taught myself to write music. I just thought I was blowing it. I thought I needed to get myself together—and I should have probably—but you were asking if it was a challenge to write in that scenario and it was not at all. [Laughs] It was very surprising. As long as I remembered to check my GarageBand files the next day, I was fine.
Analogue: Were your bandmates as surprised by what was coming out?
Scott: They've always been super supportive and are really great with any idea. That's why I've been playing with some of them since I was 15. With some of these song ideas and these demos, they didn't sound at all like the first album. It was similar content, but the songs were really different. So I would send and every time I sent it, I'd say, 'Honestly, I don't know if this is a French Cassettes song. You guys tell me if you want to work on it.' That was a sincere offer for them to say, 'No, it's not. This is too different.'
I don't want to say that anyone who likes our other stuff would not like this stuff, and it ended up having, I think, the same feel as the other album. But every time they came back and said, 'This is great!' They did that nine more times and it worked out.
They would also send me stuff, too. Mack [Bunch] is typically the one I collaborate with these days. He would send me some stuff. It was fun because we'd never tried that before, but I've known him for forever. He's the one I've known since I was 15, but we've never done that before. We always worked it out person. But one song on the new album in particular, "Unfermented," he sent over a guitar. He always downplays his stuff, so he said, 'It's kinda garage-y. I don't know if I like it.' I was like, 'No man, this is Tom Petty!' He's like, 'I love Tom Petty!' So we finished it.
Analogue: I know you put out "City Kitty" a couple years ago, but overall there's a lot of space without a lot of music for the band. Was French Cassettes ever up in the air?
Scott: No, it was always certain. It was just that we put those songs out because we honestly felt like we were going to release a full volume of something around that time. But then conditions changed and we had longer discussions about the rest of the recordings than we had anticipated. It honestly worked out okay. It is curious that, two years later, we're releasing an album for a single we put out. It wasn't planned that way, but it was always for sure that we were all betting our lives on putting out this album.
"Every time I sent it, I'd say, 'Honestly, I don't know if this is a French Cassettes song. You guys tell me if you want to work on it.' That was a sincere offer for them to say, 'No, it's not. This is too different.'"
Analogue: You mentioned earlier that you questioned whether some of these were French Cassettes songs. Is there another avenue for some songs?
Scott: No, there's not another avenue, which is why I was refreshing my email to see what they would say. [Laughs] If they said no, it's like, 'Well, shit.' Then it would just float away into something.
Analogue: We're talking about all this fear or deference involved, but what you are most confident in here?
Scott: I would say the structure of the harmonies. I think the arrangement of the harmonies, I could listen to them forever. I love how those came together.
I wouldn't say I'm most confident in what I'm about to say, but it is something that was a huge bound for me. It's something I was oddly confident in while writing. Whether it's good or not is up to the listener, but I remember writing songs and I was talking to my brother, who is our bass player. He said these new songs were great—this is 10 years ago or so—and I was like, 'Yeah, I did find myself writing odd lyrics because I was more intent about the melody. Lyrics were detached because the melody was so much more important to me.' I remember he said, 'Well that sucks.' That's all he said. That was it.
I look up to him so much and really respect his opinion on music, so when he said that, I just had to take the day off and just walk around. [Laughs] He loves bands with great lyrics, so I thought, 'I've gotta write more from the heart. I've got to talk about things I want to talk about and not just put bones on a melody.' And so, I tried that and it's not all autobiographical. But, to answer your question, I'm feeling better that at least the lyrics are more honest to someone's story rather than words that just fit a melody. I'm happy with that.
VISIT: French Cassettes
*Photo: Nikki Neumann