Marc Scibilia is not quite sure why he keeps quoting Barry Manilow but the reference works all the same.
Several years after his move to Nashville from western New York, Scibilia has crafted a sizable fan base with his penchant for emotional, melodic rock tunes that have garnered plenty of commercial placements and millions of streams. Yet Scibilia's story over the last couple years is one of an artist working hard—and even spurning further opportunities—in order to protect the impulse and innocence to create in the first place.
These days, Scibilia is fresh off the release of Seed of Joy (although a deluxe edition drops on Friday), his third long-player, but even that album isn't where he wants to be artistically. He's learning to trust internal voices and silence external ones. He's also unintentionally quoting a lot of Barry Manilow these days.
In our latest interview, we sat down with Scibilia to hear more about his journey to this point and what drives him creatively these days that wasn't necessarily true when he first started in the music industry.
Analogue: You've lived in Nashville for a while and I want to get a macro view, but first, is it safe to assume that was a follow-your-musical-dream sort of move in the first place?
Marc Scibilia: Yeah, totally. I moved here knowing one or two people, which is one or two people more than I knew anywhere else in cities that could help me move my career forward. So I moved here and started making friends at 18 years old.
They say the frontal lobe or the part of the brain—and I really know very little about this—but my neighbor and I were just talking about how that part develops so much later in guys. That's your sense of fear and those types of things. Now when I look back and realize I was 18 and think it's crazy to think of people I know now who are 18 making that kind of move and leave their family.
Looking back now, it's a little crazier than it was in the moment. It felt normal back then.
Analogue: What were you picturing in that early decision to move and how much of it is true to your experience?
Marc: Great question. I was thinking worldwide fame, like can't even really walk down the street without bodyguards. [Laughs] Slowly but surely, I've realized the 15-year-old kid who had dreams is best not to be listened to at this point in my life. Like I said, his brain wasn't fully developed.
" I'd say failure is a little more tolerable than success. Success can stress me out almost more than failure in a lot of ways."
Analogue: [Laughs] Well played.
Marc: I'm gonna live in his shadow for the rest of my life. Where I've wound up is that I have a career. I get to do this all the time and not worry about anything else. I've got an amazing wife and we have two kids now. Honestly, am I as far as I thought I'd be? No. At the same time, I get to do what I love to do.
I'm still ambitious so I'm still trying to write the song—not to quote an artist that I literally never listen to—that the whole world will sing. Some Barry Manilow there. [Laughs] I'm still trying to do that, but failure and success… neither of those are such high extremes anymore. In fact, I'd say failure is a little more tolerable than success. Success can stress me out almost more than failure in a lot of ways.
Analogue: Wait, what comes to mind when you say that?
Marc: I think when you're young, depending on what kind of house you grew up in, my family was very loving, but it was a tumultuous situation at some points. So I think you're always trying to find something that's going to fix things. I thought being insanely famous and all of that would fix something.
I've had little tastes of very big exposure, but as far as any real fame, I haven't really had that. But now I realize it doesn't fix anything for anyone. Just read any sort of news or tabloid and it only seems to make things worse. I have a great life in many ways. I feel very blessed and fortunate. To go higher up this food chain would not produce the same returns that getting to this point has gotten me.
Analogue: If that was the goal before—and goal is probably a poor word choice here—then what is the goal now?
Marc: Honestly, at my least aspirational, I'm just trying to make a living. I don't consider that the best side of myself, y'know, where I'm just thinking about the numbers. That's not what anyone wants for me. That's not what I actually want for myself. That's not what my family wants for me. So that's what I would say is my lowest level of consciousness, which is just trying to make a living.
On a good day, what I really want is to make music that connects with people. Like I said, to quote an artist that I never listen to, I would still like to write a song that the whole world sings, a song that resonates with everyone… wait, I don't even know why I keep quoting Barry Manilow. I don't even know what the song sounds like. I just know that title. [Laughs]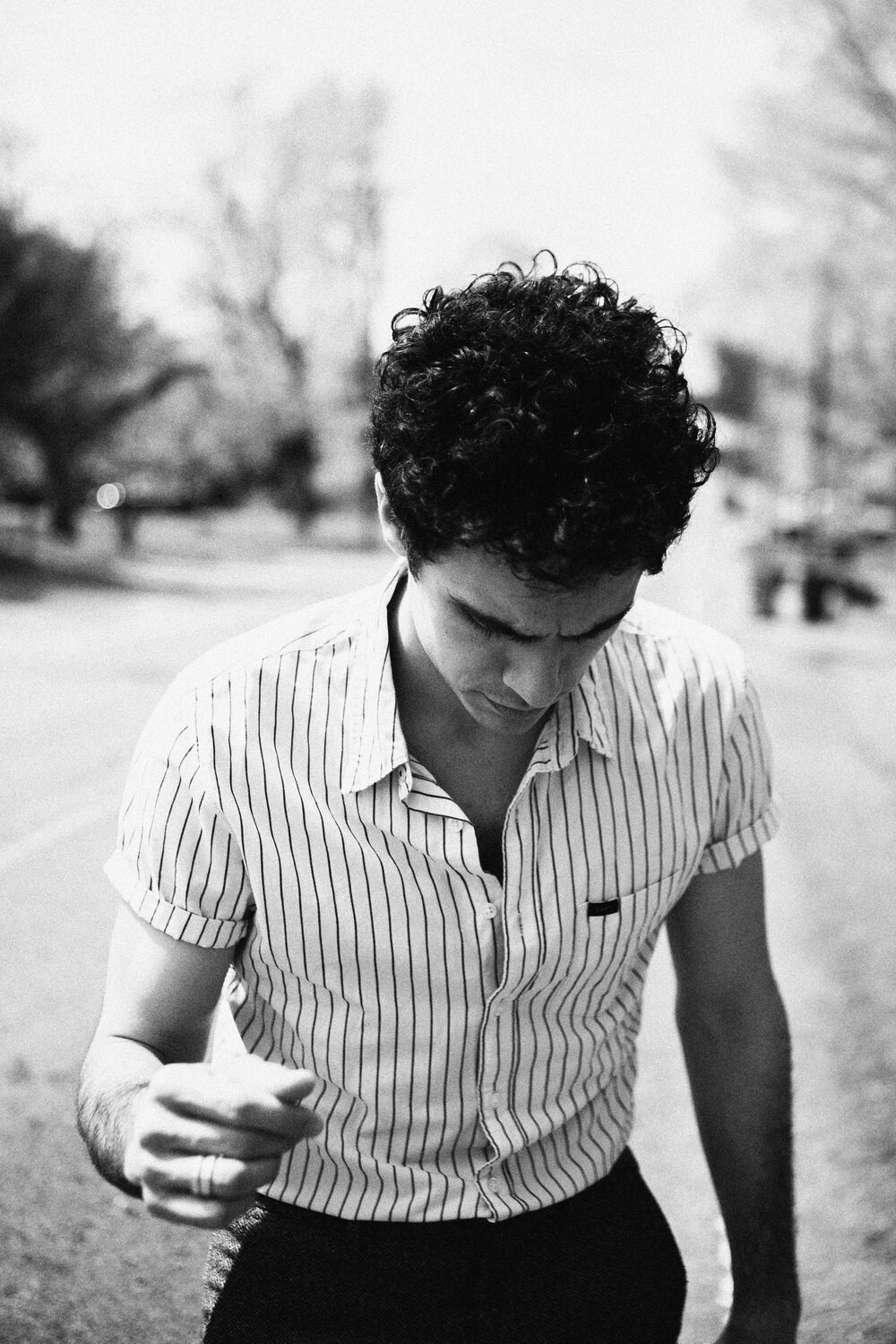 But that's still what I want. It's still very cool to me to get texts or messages from people talking about how the music did something very special for them.
Personally and creatively, I'm still really trying to find what it is that I do. I think I've touched on it. I've gotten closer and farther away from it. So now being a little bit more at peace with who I am, I have a much better chance to find it.
I have a three things going for me. One, I'm a little bit older than I was than I was when I was 20, so I've got more knowledge and skill and perspective. Two, I have more of a don't-give-a-shit attitude, which is a really good combination to do something great. In a sense, that's probably the highest aspiration—even probably higher to write the song everyone knows—is to do something incredible which is true to who I am made to be. That's the highest goal at this point.
Analogue: You said you had three things going for you. What was the third?
Marc: I can't remember, so maybe the old thing isn't such an advantage after all. I've got one thing going for me. [Laughs]
Analogue: [Laughs] What does this mean for Seed of Joy, then? Was that album the best representation of this combination you're describing?
Marc: That album is such a mixture. My father got sick in early 2019. Two weeks after my daughter was born, we found out he had a terminal brain tumor. Three months before that, I'd signed a major deal with Sony in Europe. They were really wonderful people but the visions didn't line up, and I felt really frustrated. A few months into the deal, once my dad got sick, I basically said, 'Look you guys owe me money and I owe you music. How about we don't give each other either and we'll call it even and you just let me go?" And they did.
I was writing Seed of Joy during all of that and I had voices in my life—A&R, manager, stuff like that, not that those are bad. I think Seed of Joy is half and half. In one sense, I was writing some of those types of songs, but I also had people giving me input, maybe people who didn't really know who I was. That's on me not expressing who I am and not being clear about that.
So when I started making Seed of Joy, I was totally independent. The lockdown had happened. Everyone was shut down, but some of those songs were written when I also had the record deal. So the record is half completely what I want to do and half that still has that input, the side that's trying to do something commercial or whatever. None of it is bad, but by the time I was done making it, I was already onto what I do next.
Maybe what I do next doesn't sound like it. Maybe it's just a feeling. Icould describe it most accurately in terms of the process—just being so much easier. It's doing what I want to do instead of trying to shoehorn pop songs into truly emotional pieces of work. I think by the end, I was in the groove. Will the groove come back to me? I don't know.
I made an EP when I lived in New York City and it was called 7th & Christopher and I had a very similar feeling of 'I'm going to do whatever I want to do right now. I'm just going to be the best I can be.' There are some sonic issues because I made it in this crappy apartment with the worst acoustics, but I still look back, just in terms of feeling emotional and making something dated and stamped in time, I think I nailed it on that. Hopefully when I get to the next thing I can be in a similar place.
Analogue: "Rivals" is the song that's out now. Can you tell us the story behind that one?
Marc: I'd just had the number one song in Germany with this guy Robin Schulz. One of my best friends, the guy I wrote the song with, flew out because we had these arena shows we were going to play. We thought it'd be cool to experience it together. My wife was also there with me. We all flew out for this super sick trip.
We were staying in this hotel in Munich, just hanging out. We write a lot together, so we were just doing that thing and the song came out. It's about looking at all of your accomplishments and realizing the most basic things are the ones that are the most important to you. That's what it meant to me.
VISIT: Marc Scibilia