Leah Smith admits from the outset that there's "no normal" when it comes to her schedule.
As one of the central members of Rising Appalachia along with her sister Chloe, Leah is already looking ahead one year to find out her travel plans. Tour dates for their latest album, Leylines, produced by the wonderful Joe Henry, has already taken them across North America and back again and the touring won't slow until the holiday season.
For an art project that was never intended to be a band at all, Rising Appalachia originally took on a life of its own, and Leah says that's never changed over the course of several albums. The girls have hit several continents, earned rave reviews from NPR and Rolling Stone and sold out shows coast to coast. Still Leah says there's no attempts to steer the ship. It's all about hanging on as it goes where it wants.
For now that means traversing this beautiful country with their hypnotic blend of global musical influences. "I'll show up at the table again and again and again," they sing on "Resilient," a nod not only to their commitment to dialogue in a divided country but also their willingness to obey the muse and this beast that's been created.
Analogue: How much reflection within the band is there about how far Rising Appalachia has taken you?
Leah Smith: So, so much. I think we never set out to build a touring ensemble. We never even set out to build a band. We recorded an album as an art project and creative offering to our family and friends on our back porch essentially in Georgia. I would say pretty much every step of the way has been an invitation, and that's been part of our policy. We're not pushing this thing to go somewhere that it isn't already naturally headed. We're trying to get a grip on the reins and go along for the ride. It feels like it's much bigger than our personal agenda or compasses. There's a bigger momentum behind it, so I would say many conversations have a moment of awe about where it's taken us.
Analogue: I love how you describe that, but it brings up a couple things. I wonder how much easier it is to hold on that way when there's less to risk or when you're younger and just starting out compared to now that you're older and there's actual livelihoods at stake. Does it become harder to keep that mindset, to allow this to be what it will be?
Leah: That's a good question. You know, I feel like there's not any more to risk now than there was back in the day, although the platform is bigger. I also feel the momentum is bigger. The chances of this project going in a number of different directions is very viable. It feels like we have so many paths we can choose and that there's not really a right or wrong direction.
I do very much agree that in our twenties, jumping on every exciting tour and train trip and international offer to play across the islands off the coast of southern Italy, we could say yes to mostly anything. But there's a rootedness that comes in aging that I think we're all longing for. That's a different conversation and it becomes a really different one around how to shift gears and settle into a home mode more than we've been able to.
That's not necessarily upon us quite yet. We're really already committed to touring this album and we're very proud of it. But it's just the same as a professional athlete would reach a point where you have to slow down a little bit and change the ways you reach your people or go after your craft.
Analogue: Earlier I read an interview where you described your roles as public servants. Given that, what room is there for you to feel and act upon some of these things you're mentioning?
Leah: I think that's the balance all the time. We get many, many more offers than is humanly possible to take. There's not a way for the numbers to shake out that we can reach all of the places that are interested, which is amazing honor, once again. That's an incredible place to be sitting and working at it. But at the same time, we're all really committed to the idea of the long haul. In order to have a long arc, there has to be a lot of patience. I keep using the word grace, but I think it's an important word.
If we want to able to do this and have some creative inspiration and physical integrity to perform, then we have to have a lot of time for self-care and nurture and restoration.
If you go too hard, too fast, then the potential to burn out is really real. I think that's something we've learned even in this last chapter of our work. If we want to be able to do this and have some creative inspiration and physical integrity to perform, then we have to have a lot of time for self-care and nurture and restoration. Then that will mean that we have a longer career.
Analogue: You sound very proactive than reactive with regards to this?
Leah: Every step of the way has been a learning curve. [Laughs] We've picked up tricks and tools and tips along the way. I don't think it's a finished act, you know? I think it will continue to change shape a lot, but we do spend a lot of time thinking about and studying the way that we want to be in the world. I don't know that we have it down, but we really do put a lot of time and effort into these types of questions and into the integrity of our work. That's why we've stayed independent for so long. It gives us the ability to be reflective and even critical of the industry we work in. It allows us to steer the ship the way we need to.
Analogue: I ask that about proactive versus reactive because the new album seems like it allowed for that kind of time. You're following these beautiful new influences and so on. It feels like maybe some of the things we're discussing, like self-care and space and restoration, are the foundation for the new music.
Leah: I think that's totally true. We spent five years sitting on Wider Circles as our last studio album. We did release a live album but that was a collection of our show material. We've spent five years sitting on it, which is unheard of. In the music industry, you're really encouraged to create an album every year-and-a-half or so, so that you have a touring cycle and something to release to the public.
That was never, ever a conversation for us. It's like trying to milk a stone. [Laughs] We didn't want to create new material until it was there and ripe and exploding out of us. By the time we got to the studio, that's what we had. We had creativity and songs and found that we were literally spilling over the edges. It does very much feel like it had to do with the amount of time we gave ourselves to get there.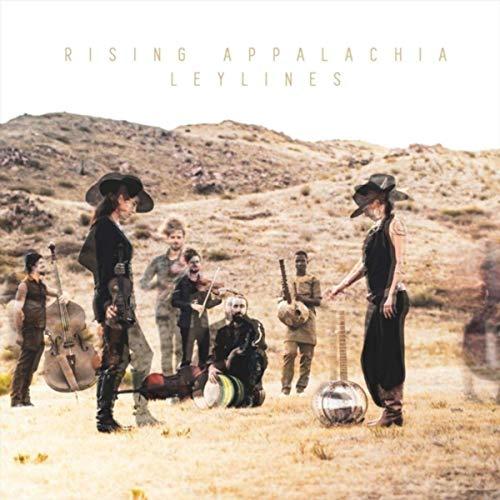 We brought in a wonderful new manager in the last couple of years and he said, 'I want a new album.' We said, 'Yeah, well, we're not positive that it's going to happen or when it's going to happen, so if you're interested in working with us, that can't be something we're mandated to do.' We made that really clear. If that's the protocol for your management then we won't work together. But he's been very wonderful and very patient with us. We're not going to produce work by force. The muses don't operate that way and if you try to force them into a right-brained schedule, it won't be as rich as if they were left to their own time. That's such an important process for us.
Analogue: Have you tried to force the right-brained approach?
Leah: I don't think we've learned it the hard way, but there were years I felt very spent creatively and I wasn't sure I had more to offer. It was actually a dark night of the soul and it made me pretty nervous that there wasn't going to be an upswelling. I wasn't ever going to try and force it. I just didn't feel that I had access to it because we were overworked. So when it did start percolating again, it was really exciting. At this point, seven albums in, we know how to identify that feeling, when the material is there, and we've learned how to steer the beast.
Analogue: If you can feel the creative burst coming, do you remember what specifically that was for this album?
Leah: I think "Resilient," which really exploded out of us, was the primary indicator that the new material was coming. "Resilient" was so vibrant that we chose to record it as a single and get it released before the album was ready and then we did a full band version for the album. That song felt super-pressing and ready to be out in the world. That was the beginning.
My sister wrote the bulk of that song in one sitting and then fine-tuned it from there. I think it came out of so much of the chaos and divisiveness that has become this country's politics. I think it was important that there was some sort of an anthem that called people to be accountable and also ask people to continue to listen and pay attention and be patient and stand up for one another. I think it came out of outrage and exhaustion and how hostile the political atmosphere has become here and how much we want to create an alternative response to the state of the world.