It feels weird to say it, but the last year has been good to The Happy Fits.
For the last 12 months or more, Ross Monteigh, Calvin Langman, and Luke Davis have felt the same confusion and grief as most of us given the heavy cloud of a global pandemic. However, they've also taken full advantage of an opportunity to pivot. Suddenly the indie pop band had more time to fine tune a new batch of songs, connect with fans in meaningful ways, and create entertaining and engaging videos—a whopping 10 of them!—in the hopes of bringing some levity.
As the Happy Fits describe the "success" of the last year, the guys are quick to not only acknowledge the heartbreaking frustrations of others but they also claim to be "super lucky." However, it can't hurt to have such a strong work ethic and a willingness to put themselves out there in genuine ways. And yes, it also helps to have an infectious new record (2020's What Could Be Better).
We recently sat down with all three of The Happy Fits members to hear more about weathering a pandemic and how it seemed to ruin all their plans only to come out the other side stronger than ever.
Analogue: First of all, how have you guys been holding up in the midst of a pandemic?
Calvin Langman: We got on TikTok. [Laughs] We have been doing a lot of live stream performances, and not just your average ones either. We set up four different cameras through two mixers, so it sounds really cool. That's brought us closer to the fans in this time when we can't go out and be with them. That's been a good way to pass the time. Then we're also just writing more music and getting excited for what's up ahead.
Luke Davis: We've been really fortunate and super lucky because our fan base has been so supportive during this time. This is our biggest year as a band and it was really weird that it's during the worst time for bands ever.
So we're super lucky but it's also bittersweet because there are a lot of bands we love who are suffering from this pandemic pretty bad. But yeah, we're lucky to have our fans and it helped to build our online presence, because what else can we do right now besides write or build your social media?
Analogue: Did you pivot pretty quickly or did it take you a minute?
Luke: There was a grace period, because I think there was a month where no one had any clue what was going on. We started a tour like five days before lockdown, so when they pulled the plug on everything, we were in Arizona playing our first show of a two-month tour.
Calvin: Yeah, we were opening up for a really big band.
Luke: Yeah, we opened up for This Wild Life and that was our last tour. Then we were opening up for a band who were very, very popular and it was going to be a whole new audience for us to reach. Then the pandemic hit and our managers were like, 'Get home as quick as possible.' So we were slowly seeing mask mandates and staying in hotels at the time and we wondered if were in danger. Should we isolate from our families? It was an interesting time. So we've just stayed as busy as we can since we can't play live shows.
Analogue: Who were you set to tour for?
Calvin: A band called The Frights.
Analogue: That had to be a real stomach punch.
Calvin: Definitely. We'd played one show so it was such a tease. We played one sold out show to a 500 cap in Phoenix. We'd never imagined playing to that many in Phoenix in our lives. I think the most we'd ever done was 150, maybe, and that show was also really awesome. I was so close to crowd-surfing. [Laughs]
Analogue: This success you've had in such a down year… what do you attribute that to? Have you reflected on the band's ability to move forward in a pandemic?
Calvin: Yeah we've definitely put a lot of time into making as meaningful connections as we can with fans. Like with our livestreams, the audience never really grew to anything more than two or three thousand, and we were sure to read every single comment that we could during the livestreams. While it's not the biggest fan base, we feel very, very close with them.
They have their own Happy Fits page on Discord. When I was going back to school during the pandemic, I was able to go into the chat and complain, 'School sucks' and they could say, 'Yeah, I hear ya.' It was a really genuine connection. A lot of the fans now have my number, too, and they'll text me.
Luke: A lot of our fan base is also younger, so I think it helps a lot where we can say, 'We'll be on Instagram Live or YouTube Live' and we have this rabid fan base who already started this Discord and everything. We can make announcements on that. So we're super lucky to also have tech-conscious fans who are willing to watch us be dummies trying to get out livestreams.
Analogue: I love the strong emphasis on visuals with the music videos and stuff lately.
Ross Monteith: We've been working with some great directors who've given us a lot of freedom. We usually have a baseline for each video we want to make. On the days leading up to the shoot, we let the director or producer have fun with the idea and let them experiment on top of it, so we work around what they're able to do as well.
We try to keep the videos lighthearted as well. We tried some serious videos to reach a wider audience, but we ultimately just like having a lot of fun. Our social media has gone off the rails during the pandemic, too, with over-the-top ads and stuff.
We're just trying to be entertaining for people, because it's just the wrong time over the past year to act like a cool guy, I think. This last year has been so terrible, so we're just trying to keep it lighthearted. Ultimately being a band for your career is pretty ridiculous, so we don't want to treat people like, 'We're too cool for school.' We're just trying to have fun with it.
Luke: Basically, we just wanted to be three goofball playing music. For it to become so much more than that, there's a lot that comes with learning. It's more than just playing live shows. We need to show these people our personalities and that's the least we can do because they're supporting us so much. Slowly but surely, it's started to become more where, 'What can we do to show people we're just like them?' We're fortunate they like what we do and through Discord and stuff, we love what they do, too. But yeah, I don't think we ever expected it to get to this level or for us to be such goofballs and everyone being so cool with it.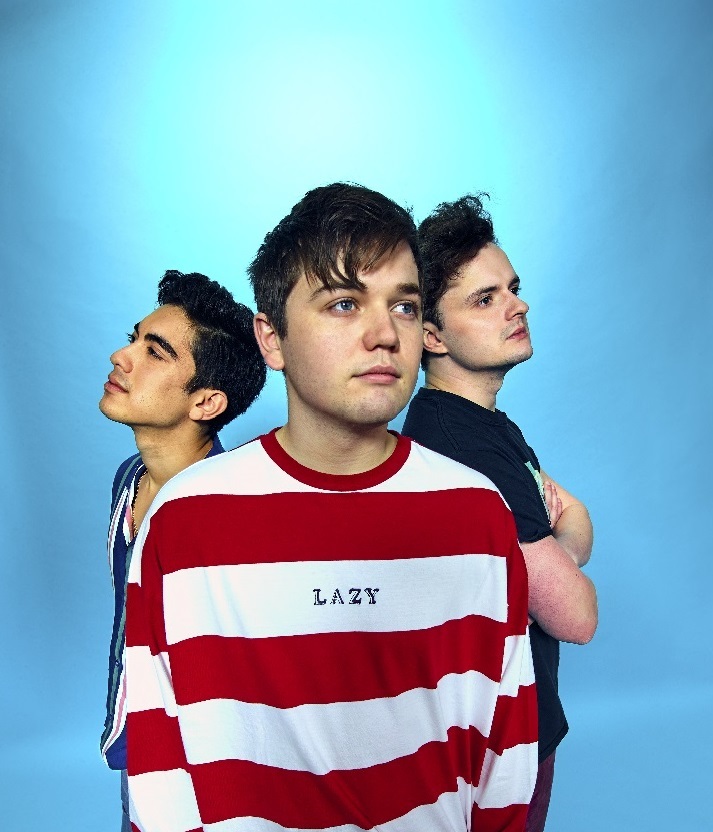 Calvin: I'm 23-ish and we're all around that age. I was raised on YouTube and Vine and a part of me always wanted to do that kind of content along with music. It's really fun for me to have that platform to express that creative side. One of my favorite creators is Gus Johnson. I love how his videos are really chaotic and that's the kind of spirit I'm trying to emulate in the editing process.
Analogue: This demeanor that you said is needed right now… was that natural for you guys to embody?
Ross: Yeah it was natural for us. It's hard for us to take ourselves seriously.
Calvin: That came out wrong. [Laughs]
Ross: Well, no, we don't see ourselves as cool people or edgy, so when it came to deciding how to market ourselves, it wasn't genuine to act like we're super cool. But it's nice to have those photos because you feel better about yourself. 'Oh, we look kinda cool!' But we want to be honest with people.
The hardest part for me personally, and this is likely true for Luke as well, was getting behind the camera and being confident enough to act a certain way. We act that way all the time, but once a camera is in front of you, you freeze up and think about what it's supposed to look like in the end.
Calvin: Luke usually resorts to screaming.
Luke: Or falling down stairs.
All: [Laugh]
Ross: Calvin's always been confident enough to put himself in any situation behind the camera. He's shameless.
Luke: I think a lot of it has been figuring out what to prioritize because we've been dealing with so much. We had this set of going on the road for two months and then we were figuring out how to shoot three music videos. Then this one month of having no clue and then this weird time of 'what do we need to focus on right now?' It was making sure What Could Be Better was the best it could be and then these music videos. If we didn't have this pandemic happen, there was no way for us to do what we were able to do. With that time, we were like, 'Should we just do 10 music videos for 10 songs?'
Calvin: It was a joke at the time. [Laughs]
Luke: Yeah we were just having to figure out these things and troubleshoot the best way to reach everyone right now, to show people who we are and trying to get through this, too. We had no idea in the beginning what to do, but now it will be weird to go back and play live shows. We're so excited.
VISIT: The Happy Fits