It turns out translating 10-year-old songs from English to Welsh is a bigger challenge than you might expect.
For the members of The Joy Formidable, this calendar year is the 10-year anniversary of their debut EP, A Balloon Called Moaning. While the celebrated trio continues to push forward with an equal mix of emotional and experimental songs (the latest being 2018's AARTH), Ritzy Bryan says the band was ready to celebrate their ten year mark in a way that made sense.
Instead of stamping out a quick reissue for the sake of a "fast buck," Bryan says the band wanted to create something meaningful—a real tribute to their Welsh roots. Y Falŵn Drom is the end result, a complete reworking of the band's debut EP translated to Welsh. It's all part of a double-album package available in limited quantities on CD and coloured vinyl.
We recently caught up with Bryan before the band's upcoming North American tour to hear more about the cause for celebration and how the relationships with these songs have changed over the years.
Analogue: In light of the 10-year anniversary celebration of A Balloon Called Moaning, I wanted to ask if your relationship with the songs has changed much over the years?
Ritzy Bryan: I would say definitely. I actually touched on this during a gig recently. We went out on an acoustic tour with Devotchka and that's more of an intimate setting. We talked a lot more between songs and we're a bit more anecdotal. We were exploring our relationships with the songs. All of the sentiments have all changed in a way, but they definitely haven't stopped being as evocative as they were.
"It's two people coming together to write for the first time, discovering each other, butting heads about what we wanted to say and how we wanted to say it."
I was talking in the context of "The Greatest Light is the Greatest Shade," which was written about a very specific relationship, which at the time was very painful. Now it obviously with the passage of time, that particular sting doesn't feel painful because of the healing and growth but the song latches on, I think, to whatever pain or suffering is around. [Laughs] It feels like it moves along with whatever is going on with you in the present.
Some of the songs on A Balloon Called Moaning—"Greatest Light," "Ostrich"—have that sentiment. Others maybe have a bit more playful background, but those big emotional songs still haven't lost their vigor in that sense. Maybe it's just shifted to a different scenario.
Analogue: Were you ready at the time for the attention that would come from it all? How well do you remember that?
Ritzy: Not at all. I think a lot of that comes down to the way it was written. It was all written pre-Matt [Thomas]. We hadn't even met Matt. We were just on the cusp of releasing it when Matt came into our lives. We were really still in the throes of experimenting and finding the rhythm of Rhydian's [Davies] and my partnership, the signature of The Joy Formidable—all of those things.
During A Balloon on Moaning, that's when we really started fixing on the band that we wanted, our production, our sound, the feel behind the songwriting. It wasn't too thought out. It was definitely pretty open, pretty experimental. So it wasn't like we had several years together. I suppose that reflects in the fact that some of those songs went on to make it onto the first album as well.
Revisiting that first EP, I just think it's really charming in a non-patronizing way. It's two people coming together to write for the first time, discovering each other, butting heads about what we wanted to say and how we wanted to say it. It came out with all of this energy and noise and layers.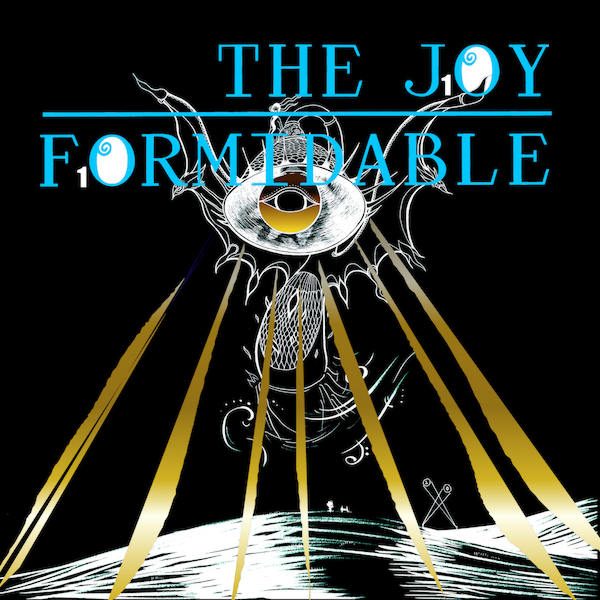 Analogue: Do you miss that kind of energy that you're describing?
Ritzy: No, I think it's evolved into something different whether or not it's better. I wouldn't say it's become comfortable. There's still all that energy and passion when we get together to write now. I don't think any of that intensity has changed. I quite like the fact that our intuition has grown, that we're more comfortable in our own skin. We've grown individually and I think we bring the best out of each other now without all of the drama.
The figuring each other out makes you a little more argumentative. That has its place but I don't think we need that in order to make really passionate, emotional music. My blood pressure is probably a bit better. [Laughs]
Analogue: What was the impetus for coming out with a 10th anniversary edition here?
Ritzy: We definitely paused over it. We weren't too worried about it seeming too self-congratulatory. Sometimes you look back at the milestones, it seems like it's a label thing to make a fast buck, quick and easy. We didn't want to take that approach. We wanted to do something celebratory. Ten years is worth celebrating. I'm looking forward to various anniversaries in this band. I hope we're still around after 20 and 30 years, but I think it was worth recognizing that we're 10 years together.
We wanted to do something fresh as well with us writing a lot more in the Welsh language. We've also done several acoustic tours now, so we've reworked songs in the past. It feels like that's all a part of the evolution as well, so we were like, 'Fuck it. Let's translate it into Welsh.' Not sure if we'd do it again. [Laughs] It was quite difficult.
Analogue: A bigger challenge than you thought it would be?
Ritzy: Yeah, we definitely underestimated the level of work, especially when I start looking back at the lyrics. A Balloon Called Moaning is a good combination of his lyrics and my lyrics, but they're quite abstract in places—quite dreamy—so to translate some of the meaning... a literal translation didn't work in places and you definitely have to think back, 'What the fuck was I thinking when I wrote this verse? What had I been imagining?' But we loved doing it.
The Welsh language is beautiful and we're very proud of our Welsh background and there's a great music scene in Wales. I think it was a really beautiful thing to do. More to the point, we wouldn't be sharing it if we didn't think it was beautiful.
VISIT: The Joy Formidable