What began as a sound engineer's idea has turned into a gift for both band and fan base.
James Graham and the rest of The Twilight Sad are busy sheltering-in-place with the rest of the world these days, quarantined due to the COVID-19 outbreak. That hasn't stopped them from releasing new music, however.
The boys' first live album, It Won/t Be Like This All The Time Live, was originally conceived of by the band's sound engineer, a way of documenting a recent round of tour dates. After five albums, James said the idea made sense to capture the Scottish band at this stage of their development. No one knew that the recordings would provide a salve of sorts for these uncertain times.
In order to make the album widely available, The Twilight Sad announced that fans could pay any amount to receive the new record. Their goal was to get the music out there, a gift to raise spirits in some darker days. What they found is that the release has provided a gift in kind back to the band, one of a healthier perspective on their craft and impact going forward.
Analogue: You've released the new live album in a pay-what-you-want format. What was behind that?
James Graham: We realized that financially it's a very tough time for everybody. Nobody really knows what's going to happen, so we decided that we wanted to release the album in a way that everyone would be able to get it, be it they pay 10 pounds or 1 pence—whatever was in their means.
The reaction from everybody was unbelievable. A lot of people were apologizing saying, 'I'm sorry I couldn't pay that much for it.' That just made me feel really sad for them, because ultimately that was the reason that we did it—so that people could afford it. I'm gonna write them all and say, 'Please don't apologize. We would much rather you listen for 10 cents or whatever.' That's more important.
"I don't really believe in fate or anything like that, but it's just weird the way the world aligns sometimes. The positivity we're giving people today feels like a good thing."
This is a weird one, because we've never released something like this, in this way. It was something we were going to release anyway. I've just seen a lot of generosity and a lot of really nice things have been said, and it's all been really overwhelming to be quite honest.
Analogue: Does releasing an album in the midst of this feel like a "screw you, COVID"? [Laughs] Some way to push back against something so big?
James: Kind of, yeah. [Laughs] Obviously the whole situation wasn't planned on our part. We were just going for a normal release and when we thought about doing a live album release, we thought, 'Yeah, we're five albums in. We're playing the best we've ever played. This makes sense.' Then this all happens. I don't know how to describe all this other than strange, but in a way, it's been a good thing to have this in our back pocket. I don't want to say it's worked out, because it has not. I'd much rather be out there playing. At the same time, something made us do this to then release it now. I don't really believe in fate or anything like that, but it's just weird the way the world aligns sometimes. The positivity we're giving people today feels like a good thing.
Analogue: Do you have a favorite interaction?
James: Well, it's just a lot of people saying that they were struggling and this has made it better. Sometimes as a guy in a band, you really do take for granted the stuff that you do—the fact that you can travel and stuff. We're not the biggest band in the world—far from it—and touring is quite a tough thing for us. I enjoy it but it can be real hard work when you're away from family. We're not traveling about in Beyonce-style tour buses. But this has made me take a step back and say, 'Wow, the opportunity we've been given over the years is amazing.'
It's seeing what this has meant to other people and not just ourselves, taking a step back away from it, from my perspective, and hearing others say, 'Seeing your band is important to me.' I think everybody is having to take a wee step back and look at their lives and what they do and their relationships and everything. I think this has been for me a really big thing. When we release music, it feels like a drop in the ocean, but if it improves one person's day it was worth it. Seeing that it's improved things for a lot of people, it inspires me to keep going.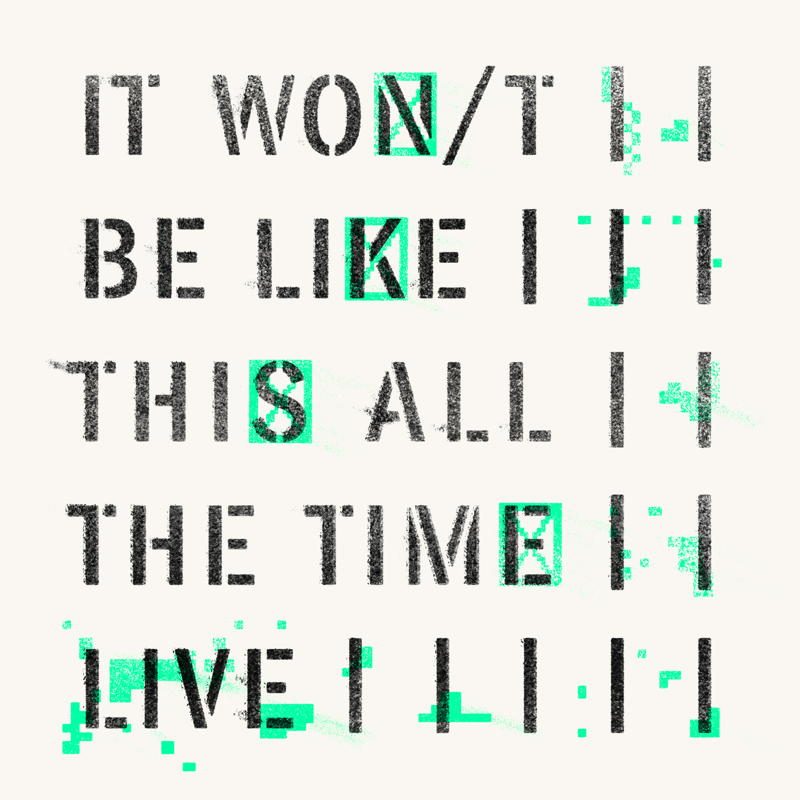 Analogue: You mentioned earlier this being the right time to release a new album. Is that about chemistry?
James: I was talking to someone the other day. When we started out, we'd played only two or three gigs in three years and then we got a record deal. We recorded an album and then got sent out on the road. That was a huge learning curve. I think we were a deer in headlights a lot of the time, you know?
So over the years, it's taken five albums to be the band I think we always knew we could be. We still want to be better. I think there's no point to keep doing this if you don't want to better yourself, but I feel leading up to this present moment, it was undeniable that even if you didn't like the band's music, we're a good live band. We just felt it was a moment in time we wanted to capture, and I think by all the gigs we played over the years, we've learned so much. For me, it was time to document that.
Analogue: Had you had any discussions before this time about a live offering?
James: Not really. To be honest, it wasn't even our idea. [Laughs] Our sound engineer said, 'I'm gonna bring some mics out on tour. We're going to record it and see what happens. Then if it's good, then maybe you can release it.' We were like, 'Yeah, cool.' That put the nugget in our head. It makes sense, we're five albums in. Not a lot of bands get five albums in these days, so I think it was a perfect time to document it. Then to be able to move on from it is another thing. We're really proud of that place and time but then we want to move on to the next thing.
Analogue: How much of what you just said have you guys talked about within the band—the bit about not many bands having five albums?
James: Well, we're in a position where we're constantly pinching ourselves anyway wondering how we actually made it to five albums. [Laughs] It's been a journey of ups and downs with a lot of uncertainty. There have been times when it's been hard to keep carrying on and it's not for the [lack of] wanting to be a band and to write music and to play live. It's just for a band the size of ours, financially it's hard. Apart from [this past release day], people don't really buy music. [Laughs]
We're lucky to have a great fan base that believes in us. As soon as an album is up for pre-order, they're amazing and help us out. But to get to where we are, it's been a struggle. I'll continue to write music with Andy [MacFarlane]for the rest of our lives, but in what capacity you're actually able to be a functioning touring band. Luckily, we're still able to do that in this moment, but yeah, I'm constantly struggling to believe anyone likes us. But that's just my Scottish nature, I think. [Laughs]
Analogue: Let's talk about this album. Is there a song that surprised you with how well it came out? One that you're proud of?
James: Since we lost our friend Scott [Hutchison] from Frightened Rabbit, we've been playing "Keep Yourself Warm" as the second to last song we play every night. Scott was one of my best friends, so every night, it's hard to do that, but it's also a beautiful thing, I think, to share Scott's words and music every night with people. It's important for us to keep his music alive and make sure it reaches new people.
For me to have that song captured live with the crowd singing it possibly louder than I am is a beautiful thing. It's there for people to hear forever now to show how much we loved him and love Frightened Rabbit. You can hear from the audience how much they love and miss him, too. As hard as it was to do that every night, the overwhelming feeling was of love for him. To be singing his words on stage is a privilege and people can feel that through the live recording as well.
*Photo: Paige Parsons
VISIT: The Twilight Sad