The third tour was the charm.
Clark Vogeler says Toadies were ready and willing to hit the road to celebrate the 25th anniversary of the band's first studio album Rubberneck. Then came a global pandemic and forced lockdown. Suddenly all plans were off and the members of Toadies were forced to find new ways to channel their creativity and occupy their time.
Two false starts later, Toadies are currently on the road connecting with their longtime fans while playing through their most popular album. They're also looking at a new recording session for later this year and next, potentially with Steve Albini. The downtime wasn't what anyone wanted, but it provided something that they needed.
Analogue: You said earlier that you guys had to pull the plug on this anniversary tour a couple of times already. Was there ever some wrestling with moving on or following through for another try?
Clark Vogeler: The first time we had to cancel it, it was the hardest decision we'd ever made. It was just getting more and more stressful the closer we got to that tour beginning. Obviously, fall of 2020 was a terrible time to go on tour. After we'd postponed it, we felt better, but six months later, we were facing the same thing. We'd booked it again for 2021 and we were ready at the time, but I think it was Delta that threw it all off.
We had feedback from fans and promoters that everyone wanted to see this tour. But our fear was that somehow it might not ever be possible to tour again, y'know? This year, each of us has been able to make it out to some concerts and remember what it's like to be a fan in the room while someone you love is playing music. I think that's a feeling we all missed more than we realized, so to finally get to launch this tour and do it safely has been worth the wait.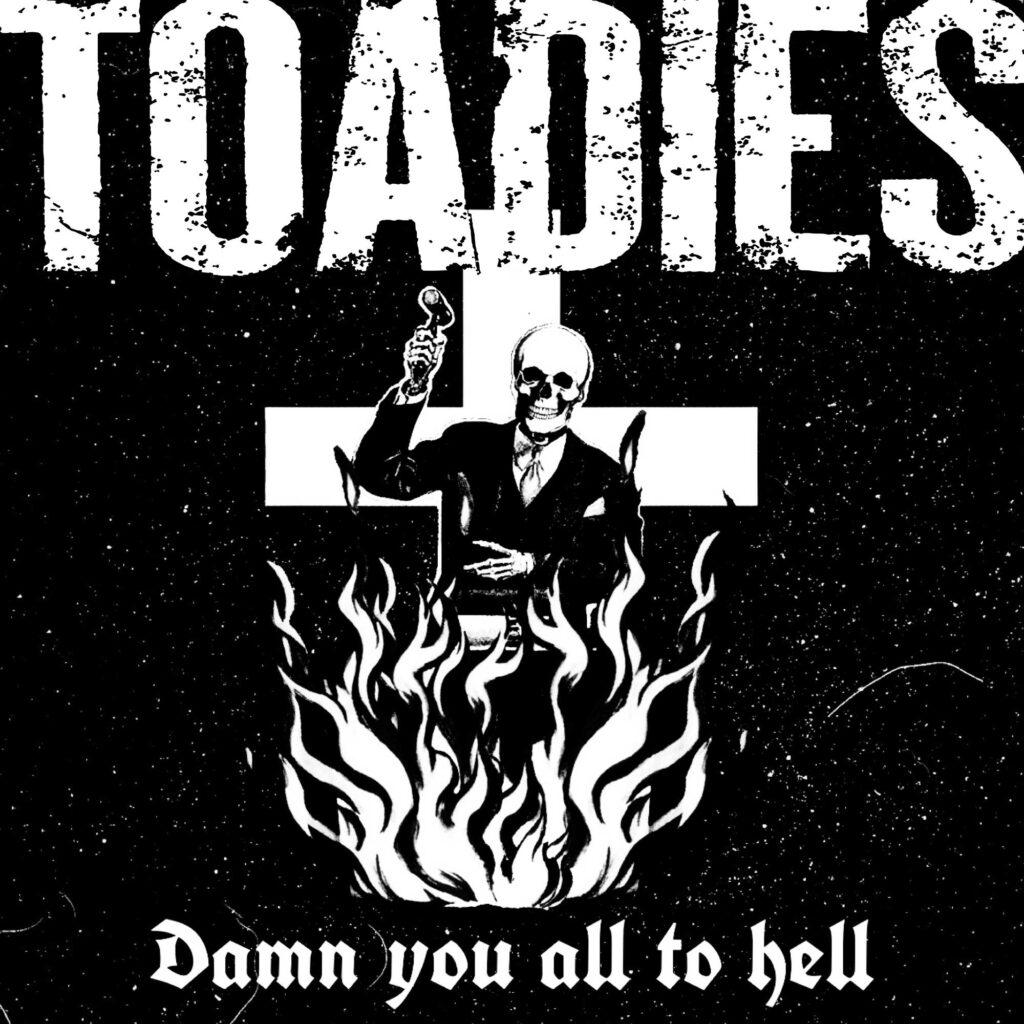 Analogue: I'm sure it was helpful to hear from fans and promoters, but I'm curious if there was still some doubts or fear if people would be there on the other side.
Clark: [Laughs] Maybe it shows our overconfidence, but not really. If there's one thing Toadies fans love to hear, it's Rubberneck live. Even when we're not doing a Rubberneck tour, we play so much of that album anyway. I think, for better or worse, we always knew we'd have some people to go out and play for.
Analogue: When you revisit the songs in this kind of way, does your relationship with them change?
Clark: I would say that our relationship to the songs does evolve. Specifically, there are a few that are not in regular rotation for one reason or another—typically the fast ones like "Mister Love" and "Velvet". It sounds good to come back and revisit these and play them again and it's exciting to bring back a song that hasn't been played in a long time.
On a personal level, my wife bought me a drum set for my fiftieth birthday, because I'd always wanted to be a drummer. One of the things I did during the pandemic was when we were locked down for months, I started playing the drums along to Rubberneck and tried to keep up. That gave me a new respect for the songs and specifically for the effort our drummer, Mark Reznicek, put into the album.
I've been playing next to him for 25 years, but I didn't realize how unique his playing is. The parts that he creates are really atypical and non-standard and non-showy. He's got his own feel. So my relationships with the songs are still evolving all of the time and it's cool to have discoveries like that about music with which you're so familiar.
"To be a musician and be able to go out and play songs has got to be the ultimate goal."
Analogue: Do you remember the way that first show felt after lockdown?
Clark: The first show would have been in Tulsa and that was a really great crowd. We like to warm up and get ready with a few songs, so we don't go out and jump right into Rubberneck. But as soon as we jump into "Mexican Hairless", they start screaming and jumping around and you can feel the energy in the room rise exponentially. By the time we get to "Mister Love," the energy is through the roof. It's really amazing.
It's hard to explain unless you've had the opportunity to be up there playing music and watch the room change depending on what you're playing. To be a musician and be able to go out and play songs has got to be the ultimate goal as a musician. There's really nothing better. There's fame and fortune and blah, blah, blah, but to see a physical reaction to the music is unbeatable
Analogue: That statement right there. How much has it been affected by lockdown?
Clark: It has been affected. There were some artists I listened to obsessively during the pandemic. Then they came to town and I got to see them. It felt like such a privilege in a way that it never felt before. To see the handful of shows that I saw felt like such a privilege and I really, really loved the opportunity to be in the room and take in the music and share that experience with other bands. I can only assume that fans are having a similar experience with our music. Or I hope so, at least.
Analogue: Is this something you all process together?
Clark: Yeah, each of us has gone to see shows this year and I think they've all had similar experiences. Then each night after the show, we always sit around and talk about the things that stuck out to us and how we felt performing. We're all still evolving as performers even this late in the game and figuring out new ways to connect to the music and the actual playing of it. We definitely don't feel like we have it down, like it all just comes easy. We still put a lot of effort into it, so we have a lot of talks about this.
VISIT: Toadies
*Photo: Matt Cooper