Ishmael Butler can't remember how he stumbled across Yuno's music. All that matters is that he found it.
Somewhere, somehow, Butler came across Yuno's genre-defying, mesmerizing compositions, setting in motion a 10-year dream for a Jacksonville-based musician.
Butler is most popular for being a member of Digable Planets or Shabazz Palaces, but he also holds an A&R role at Sub Pop records in Seattle. That's the same label worshipped by a younger Yuno who had, in fact, sent them demo of his earliest work a full decade earlier. He never heard back from them ten years earlier, but somehow—again, no one can remember the exact story—Sub Pop came calling just last year.
Just know that you should trust Butler's taste. There's absolutely no reason why Yuno hasn't exploded before now, but we're all here now and thankful for it. Yuno's new EP, Moodie, is a stunning sampler platter of the moods, styles and twists he's capable of taking. We're hooked. You will be, too.
Analogue: You're stepping out for some new tour dates. How are you enjoying this side of things?
Yuno: Generally I'm pretty excited. I had a Twin Shadow tour earlier this year. It was about five shows over two weeks, and those were my first live shows, really. That was a good jumping off point to get used to this or even just to hear Twin Shadow play every night. That was really helpful because it gave me different ideas on how to approach my live show. So I've come back with my live band to start figuring out things we want to change. We also added another member.
It's been exciting to figure out how to make the sounds that I have on the actual songs come to life in a live setting. I never thought about that when I recorded, so there's a song with maybe 5 guitars and we're having to replicate that with just one or two guitars. It's fun.
Analogue: How was that very first show with Twin Shadow?
Yuno: Extremely nervous. [Laughs] I was extremely nervous every single show. After three shows, I thought I'd be fine and then 30 minutes before I'm supposed to actually get on stage, I'll start freaking out and my heart will start beating fast. I'll think I'm going to mess up or no one will like it. But once I'm on stage, I realize that I actually have to go through with it, that I can't just walk off. That's when the nerves begin to disappear and I can focus on it.
What also comes with this is having a band. There are all these technical things about music theory or whatnot that I never really learned because I'm pretty much self-taught with all instruments. I just watch online tutorials and stuff, so I don't know anything about music terminology. I don't know how to explain things to my bandmates. They'll say, 'Okay, do I play quarter notes here?' I'm like, 'Uh, I don't know what quarter notes are.' [Laughs]
Analogue: I read that Ishmael was your contact at Sub Pop. At what point does he reach out and make contact? How does music become more than just a hobby?
Yuno: It really started to feel like a career once Sub Pop came around. I've been putting out music for a long time online, around 10 years or something. I was kind of taking a hiatus when Ish contacted. I'd switched from a PC to a Mac to produce, so I had to switch to Ableton. I was spending time learning that and that's when he reached out and said he liked my songs after stumbling across it somehow.
We kept in touch and I hadn't put anything out from when he first contacted me to when he took my music to Sub Pop. But he said, 'Hey are you cool if I show it to Sub Pop?' I said, 'Yeah, that's cool.' [Laughs] So he did and I guess they liked it. So when I started working with them, flying to Seattle for meetings, that was the first time I realized, 'Oh, this is something that exists outside of my bedroom.' Even still, so many new things are constantly happening.
Analogue: How did he find you in the first place?
Yuno: We were talking about that and he doesn't remember. He just stumbled across it. Neither of us have a good memory of it either. [Laughs]
Analogue: Well when you read that email or whatever it was, what'd you think of that?
Yuno: It was completely unexpected because I've been a Sub Pop fan for a really long time. I was definitely excited when I saw it. However I didn't know who he was when he first emailed me. At first I was looking him up, 'He works at Sub Pop? Who is this guy?' Then I realize he's in Shabazz Palaces and then I realize the same guy was in Digable Planets. I didn't even realize that, but that was definitely exciting when I figured it all out.
It's still surreal to me to be on Sub Pop. When I first started making music, after a year, I sent a little demo to Sub Pop because I was into so many of their bands at the time. That's pretty much the only label I've ever sent something to. It took 10 years, but now I'm on Sub Pop. It's a dream come true. [Laughs]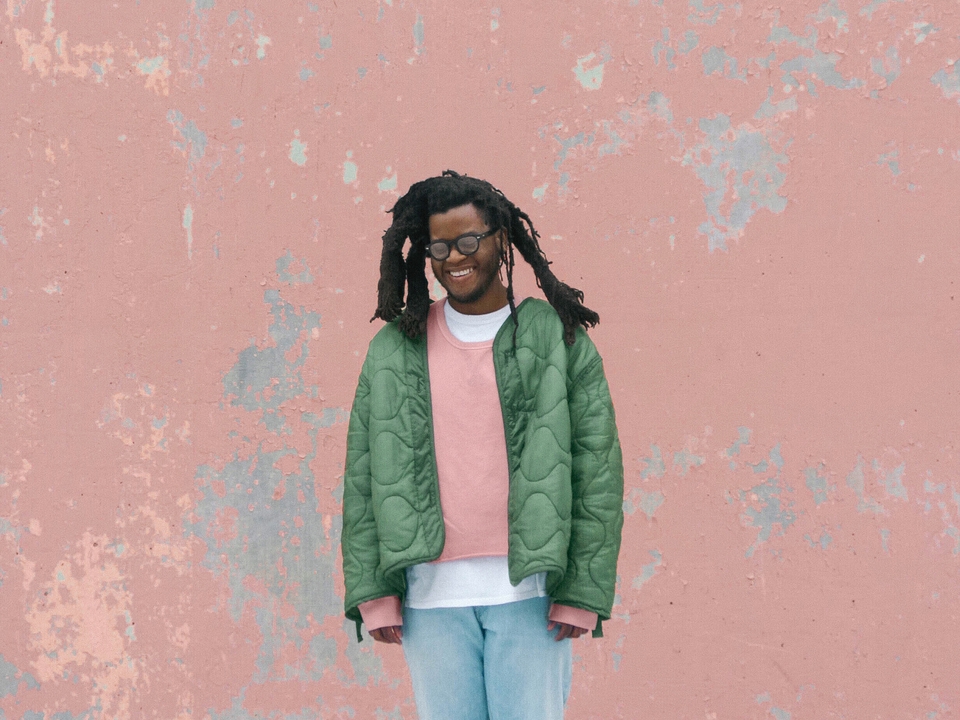 Analogue: So if you got demos together, even just for Sub Pop, at some point you had some aspirations to make music full-time then?
Yuno: Pretty much when I started, I realized this is what I wanted to do. I always knew I wanted to do something creative for a living, but I didn't know what really. I knew I loved to play guitar and I'd make videos for school projects or I'd draw when I was young. Then I realized can encompass all of those things and give those other talents or hobbies that I have a purpose. I can design my own album art, shoot my own music videos, take my own press photos. So from the moment I started writing songs, I realized I wanted to do this for a living. It's just been a long time of figuring out exactly how to make this work.
Analogue: I love the various places the new EP goes. Is that purposeful for you to want to go down so many paths?
Yuno: I get bored if I make the same kind of music for too long, so I naturally float around with genres and mix them together. I never put too much thought into it when I'm making it, but I've always listened to all kinds of music—from NSYNC to Killswitch Engage to Avenged Sevenfold to AFI to Jack Johnson to Regina Spektor. I grew up on all of those so they've all combined in different ways even though they're different from each other.
Analogue: What does the typical songwriting process look like for you?
Yuno: A lot of times I'll be playing around with a certain sound and I'll play melodies until something sticks with me. Then I'll record that and build on that. The vocals usually come last. I'll have some vocal melody that I won't record, just because I've had issues before where I've recorded a vocal melody and then I feel like it wouldn't fit but it'd be stuck in my head. I'd have a hard time thinking of something else. So now I try to come up with a vocal melody that I'll remember the next time I hear the instrumental without recording it. I figure if I remember it, then it's memorable. Then I write lyrics that fit the vocal melody I came up with.
Analogue: You waited 10 years to be a member of Sub Pop's roster. Are you glad it didn't happen until now?
Yuno: I think so. It's one of those things where I thought at some point, someone would recognize my music or someone would like it. I don't know. I constantly see myself develop and when I listen to something old, I'll think, 'I should have done this or that differently.' So I definitely feel I am in a better spot now as an artist to put something out in a more professional way. Even the EP, I've grown since this has been created. But I'm glad to have this project that I'm still proud of that I can continue to grow from.